I guess a lot of things have happened since my last post! Back in mid-January I was notified I passed my seventh actuarial exam. One more to go!  Lauren took me out to a French restaurant to celebrate and it felt nice to be done with studying for a bit (I plan to take my next exam in October) which was good because I was super busy with other things. Particularly wedding type things.
I wanted to paint each of my groomsmen a painting related to how I remember each of them, as a gift. To be honest, it did cross my mind whether I could paint something for each guest too but that might have stretched my skills a little further than what I could handle in that time frame…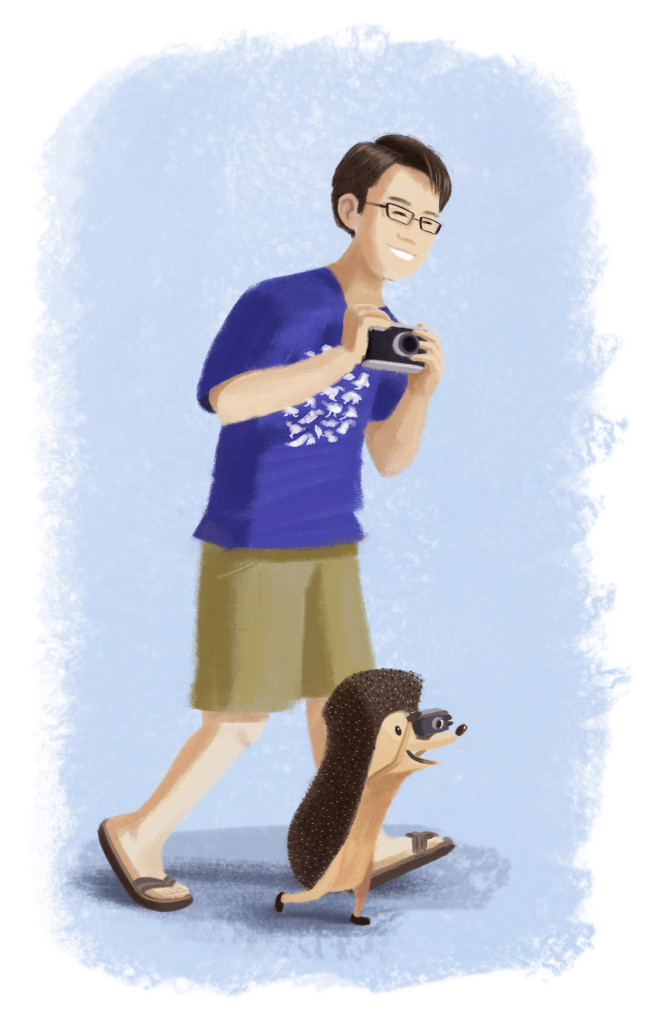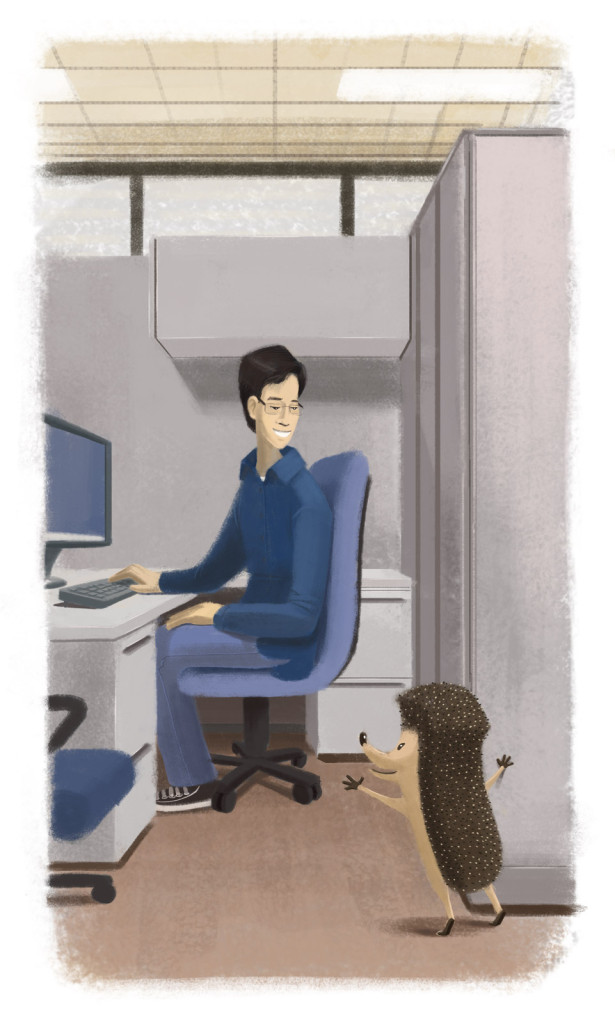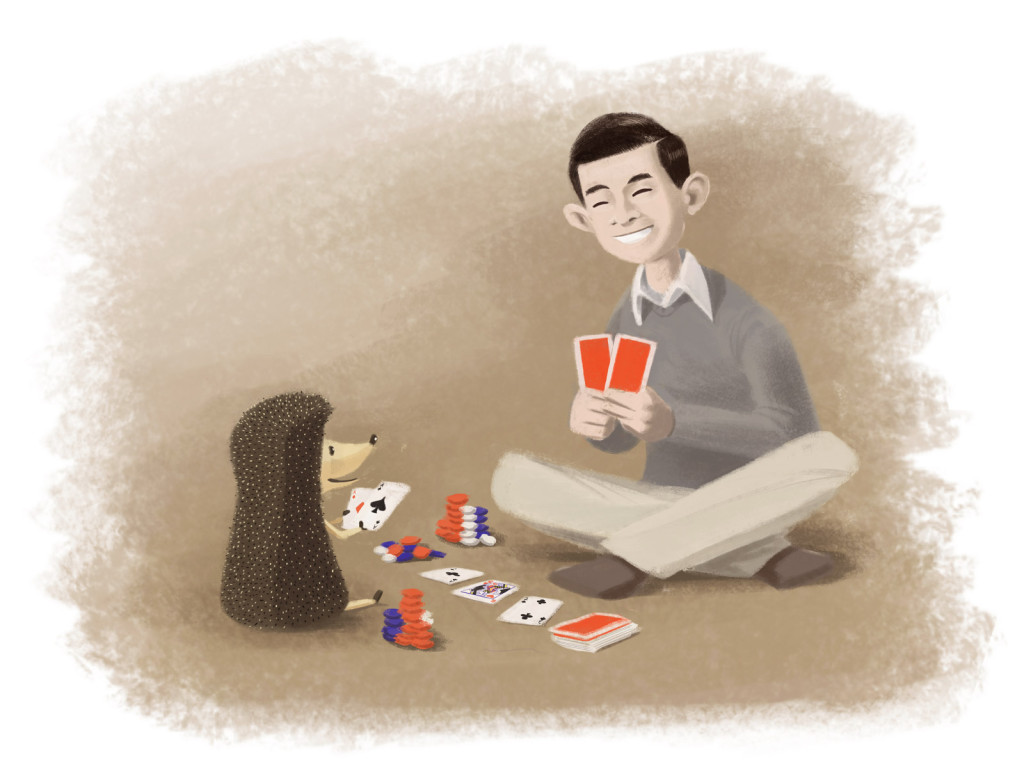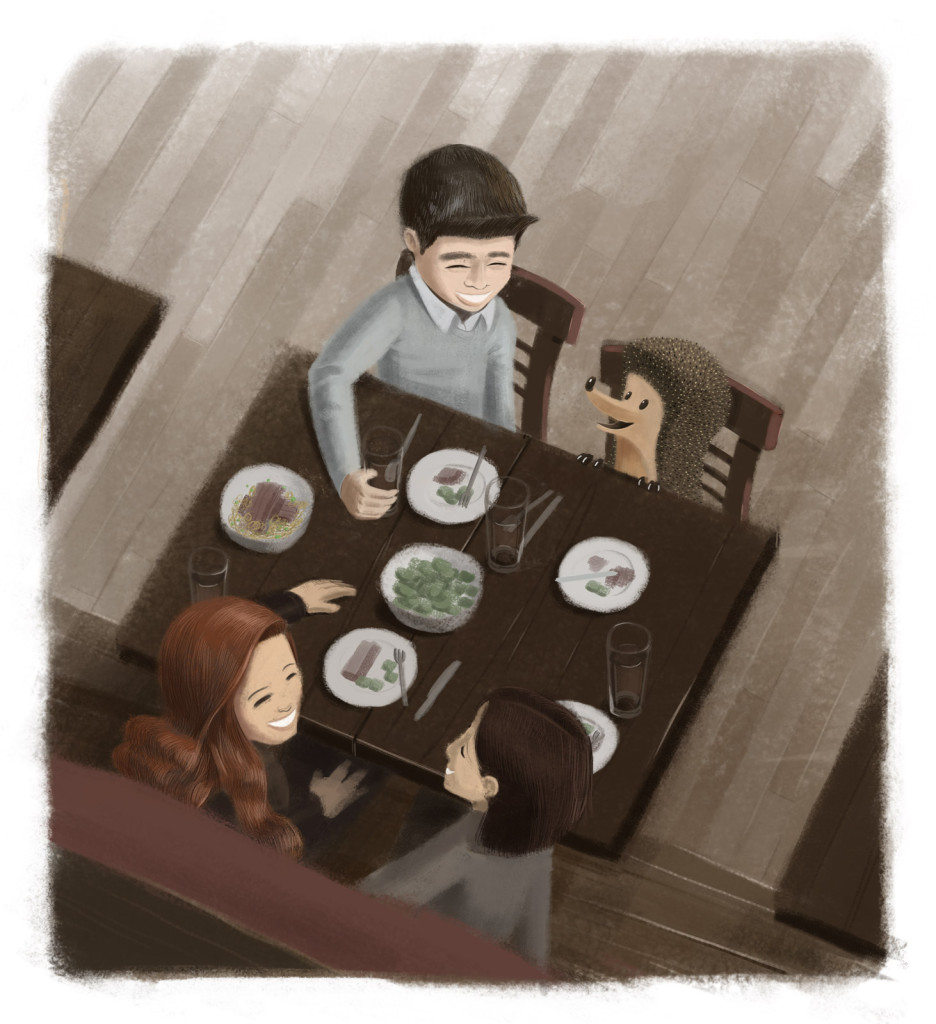 Lauren and I ended up hiring photographer couple Nataly and Art Lemus and taking engagement photos with them. We were thinking of taking the photos around the Larchmont area, where Lauren and I would walk around a lot, but we opted for a more natural setting, Topanga Canyon State Park. Lauren appreciates nature and the photos turned out great.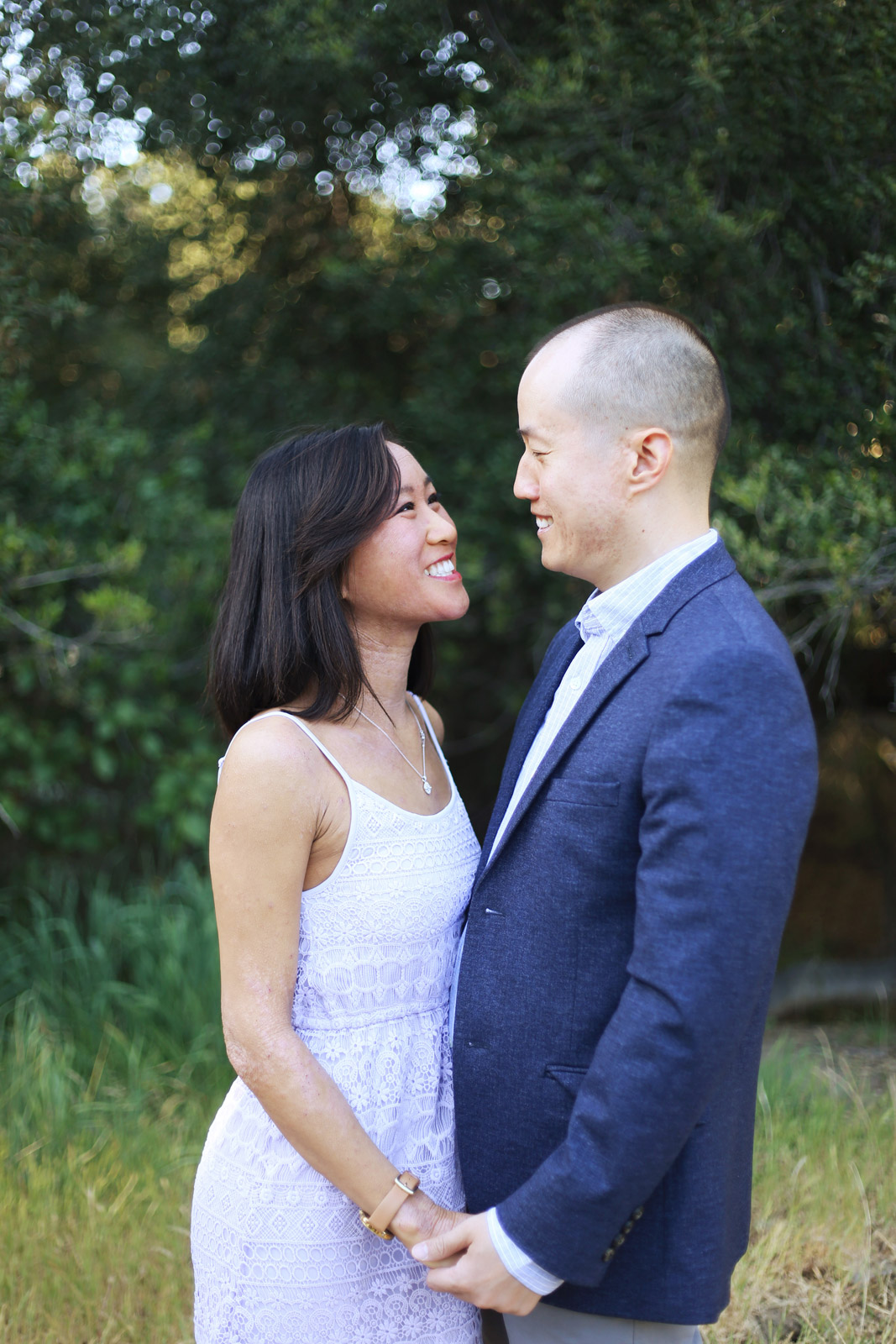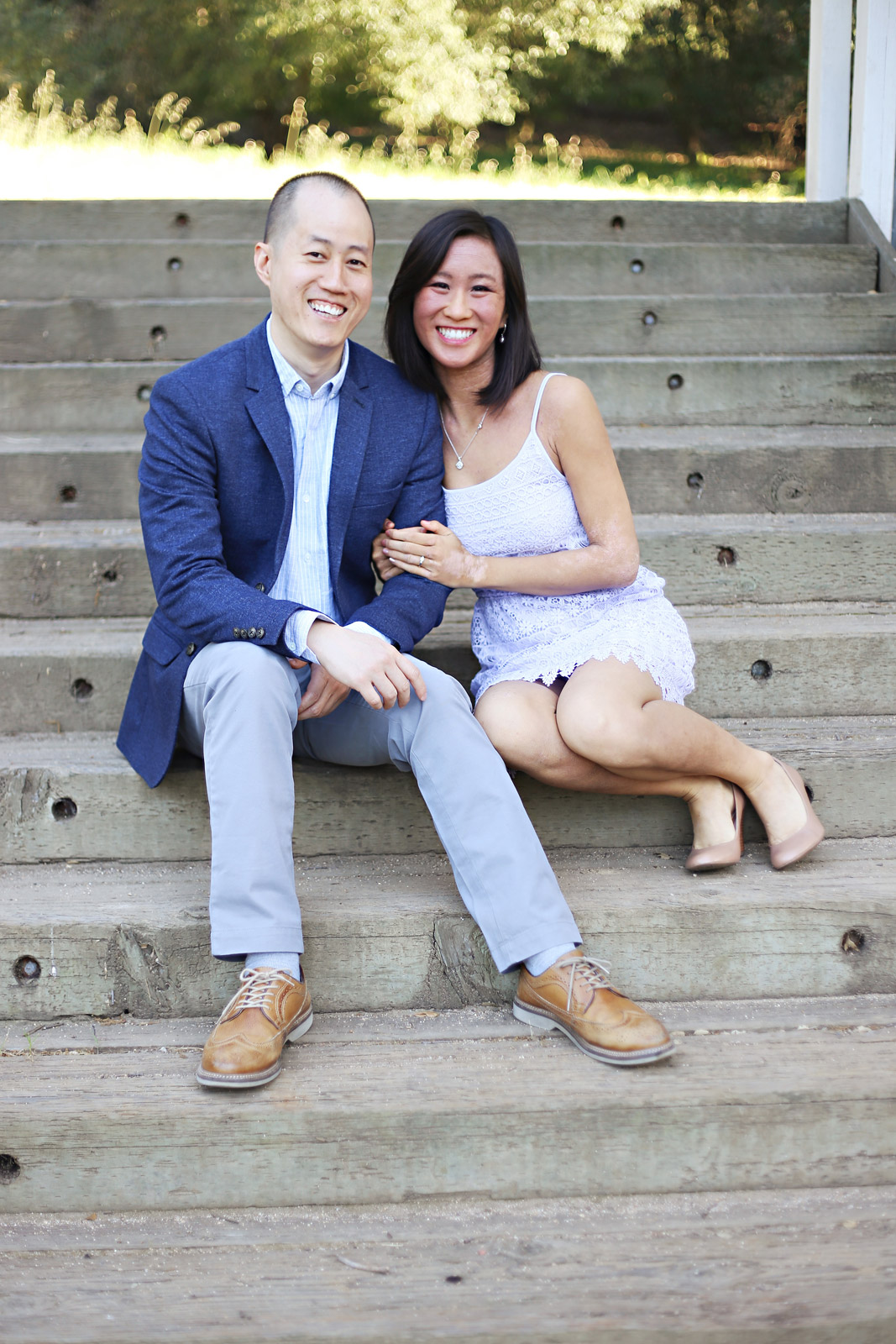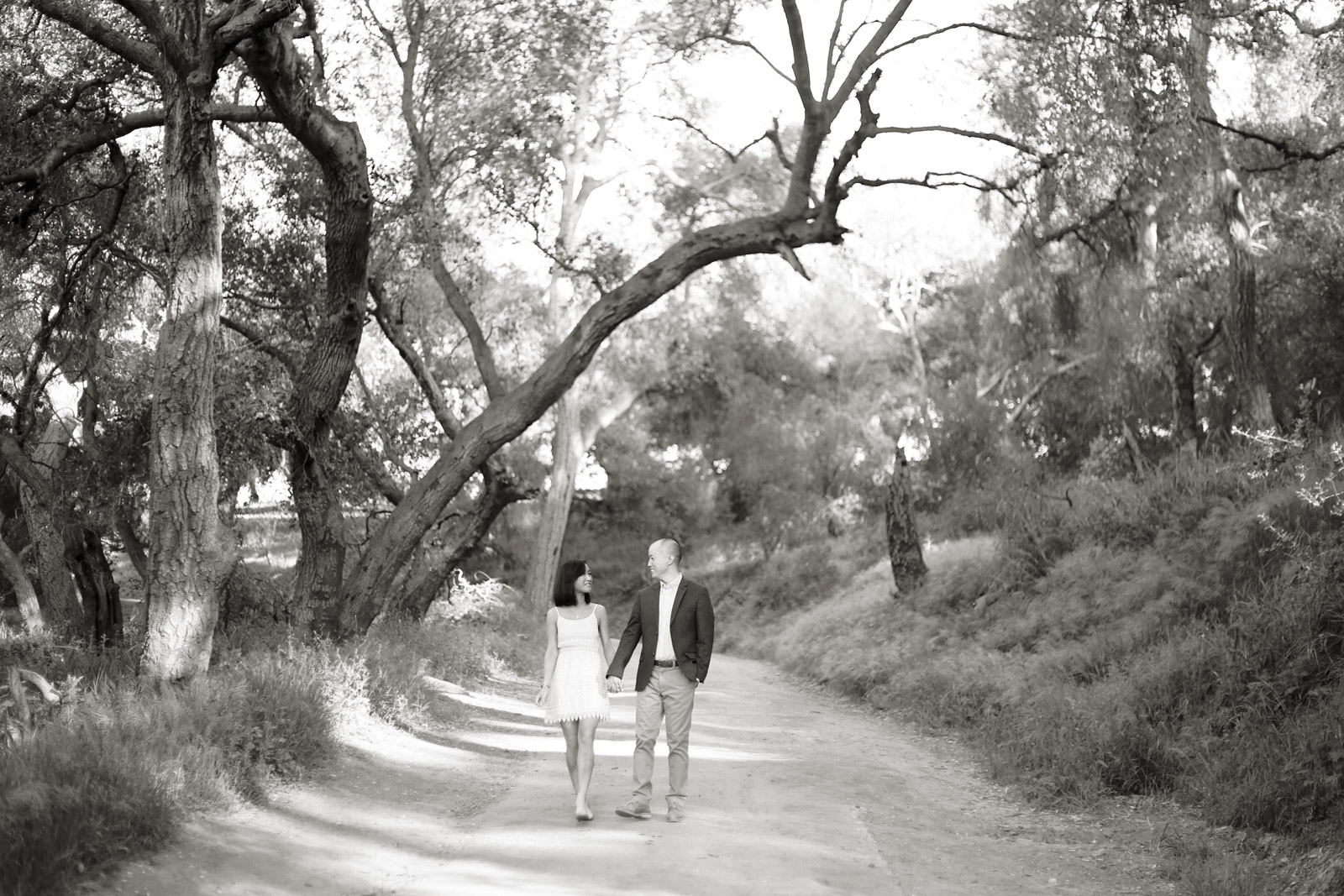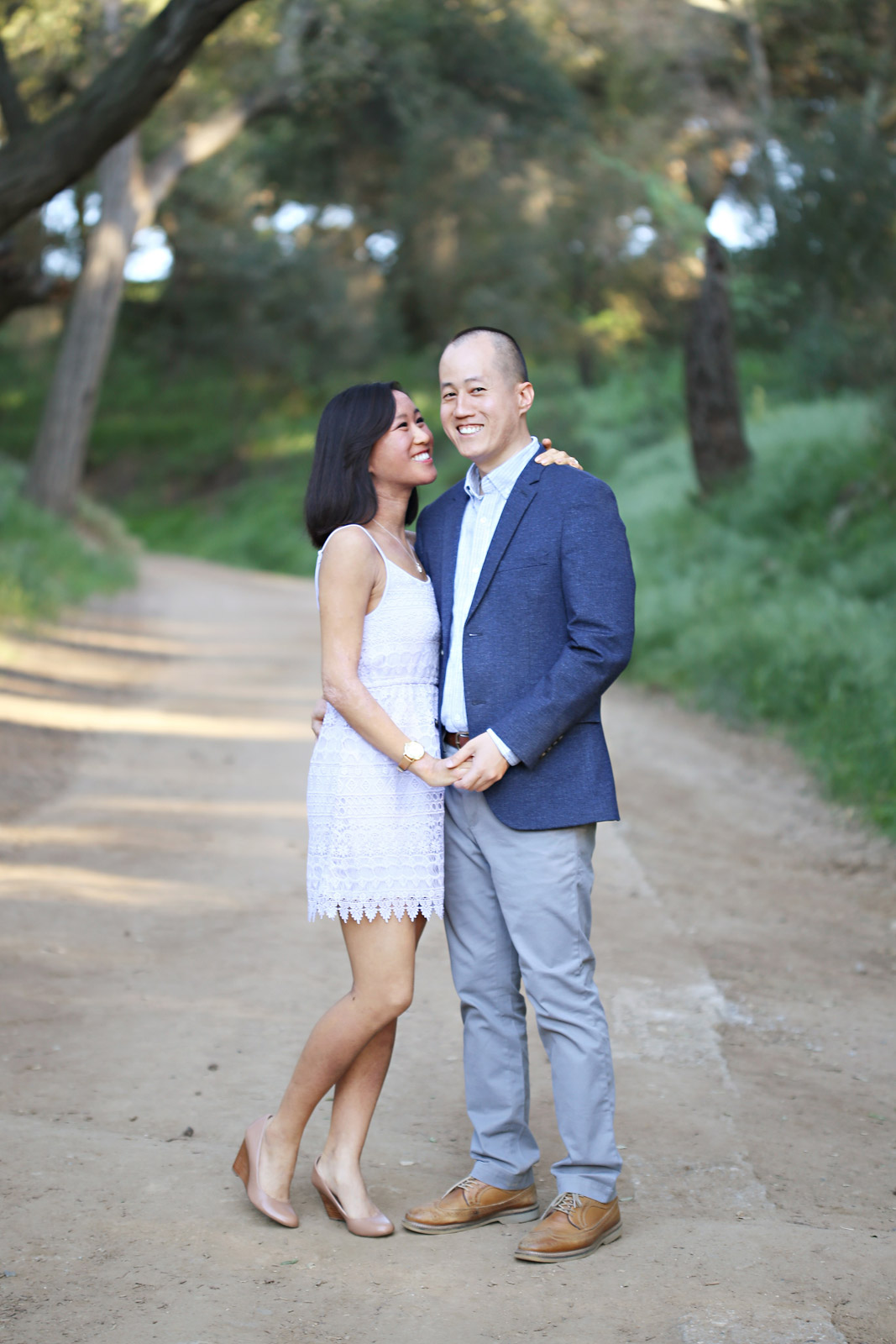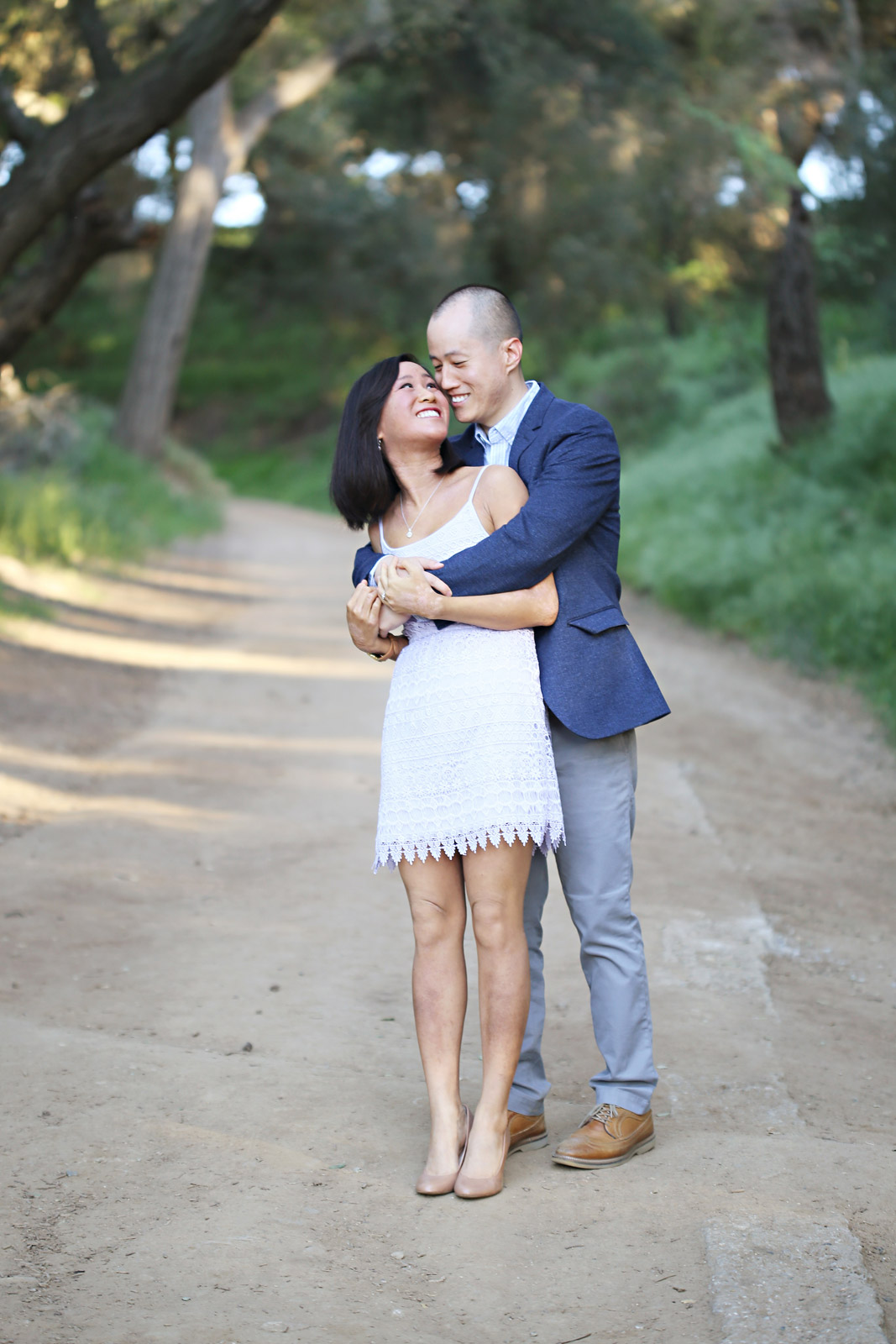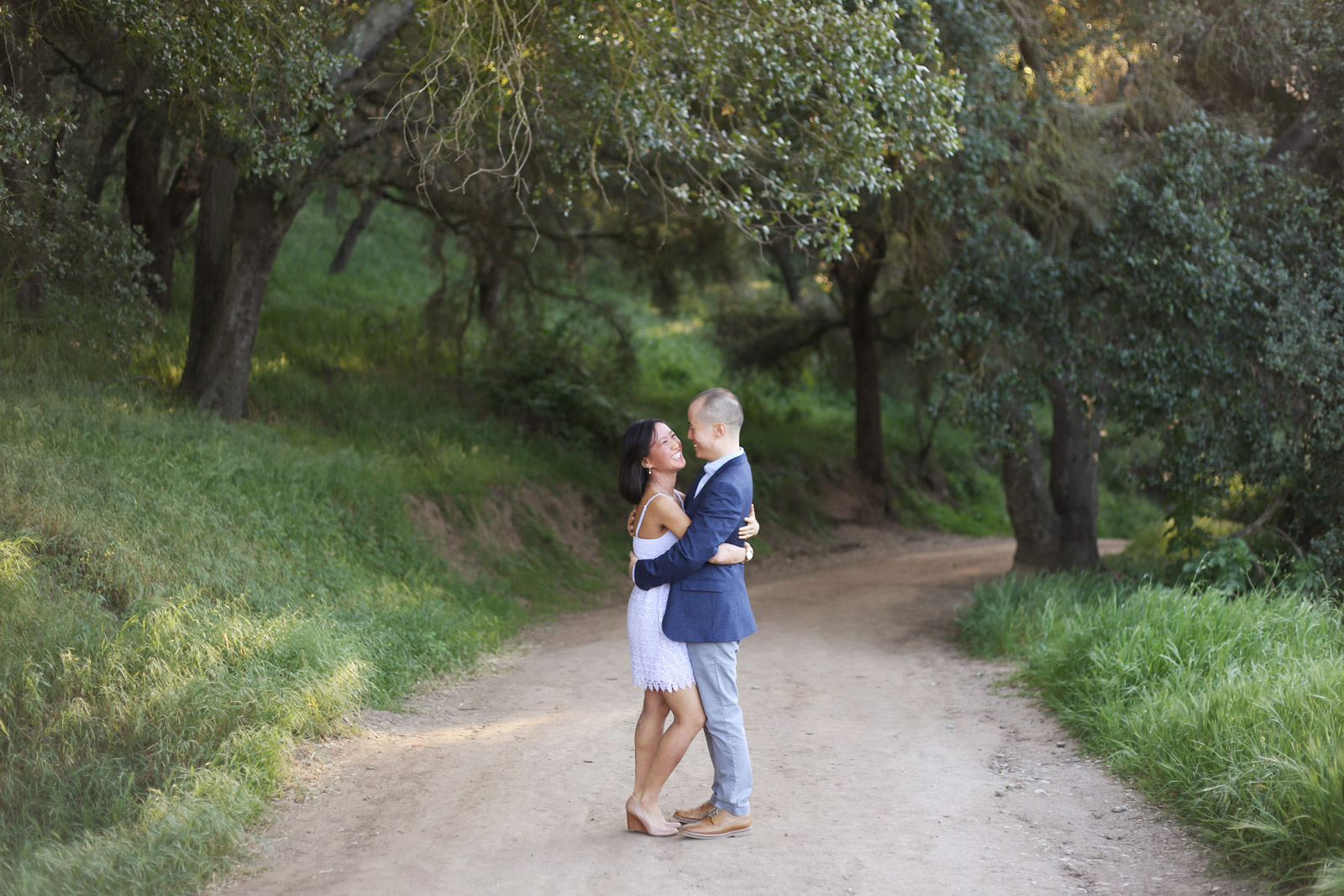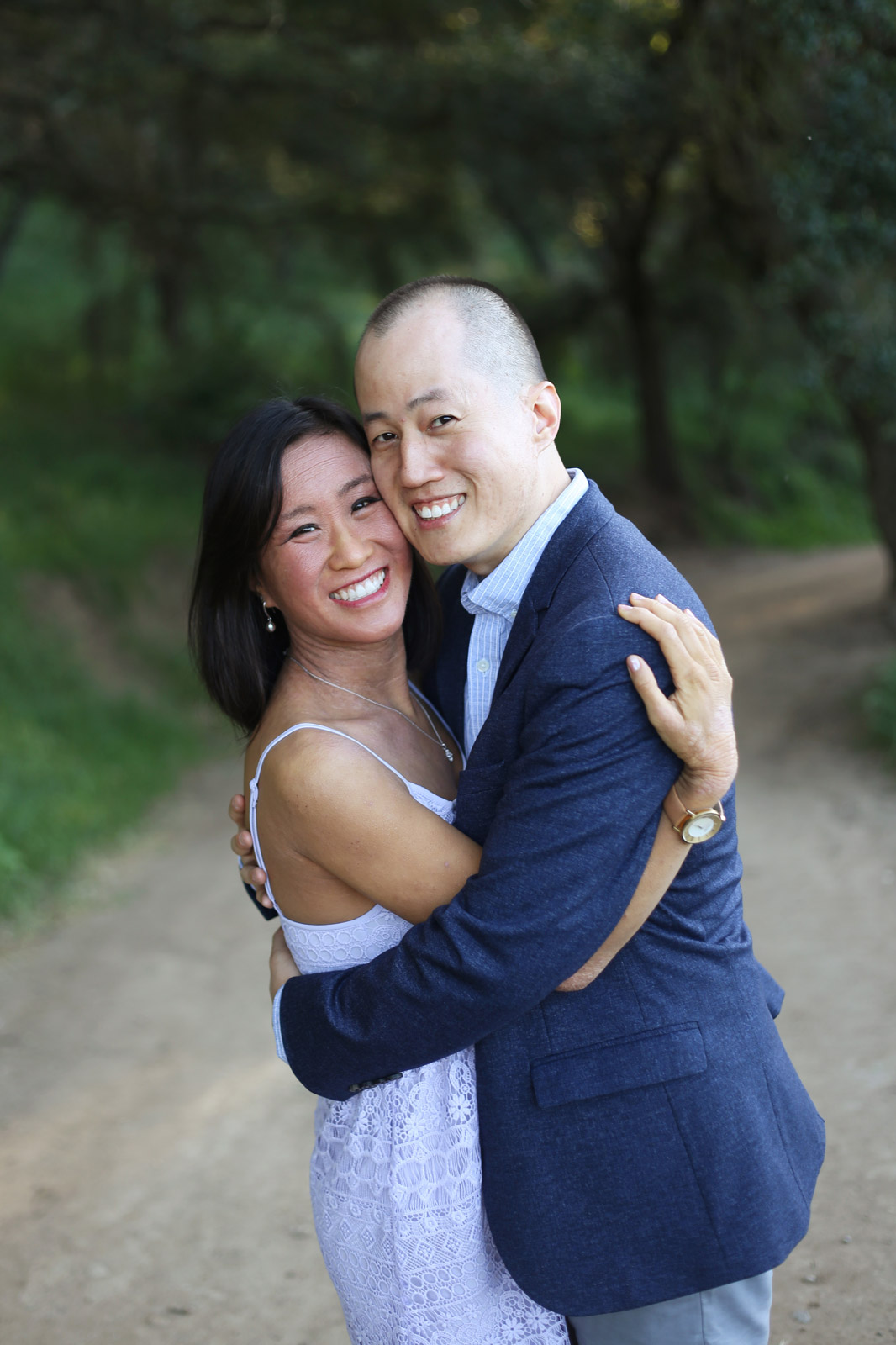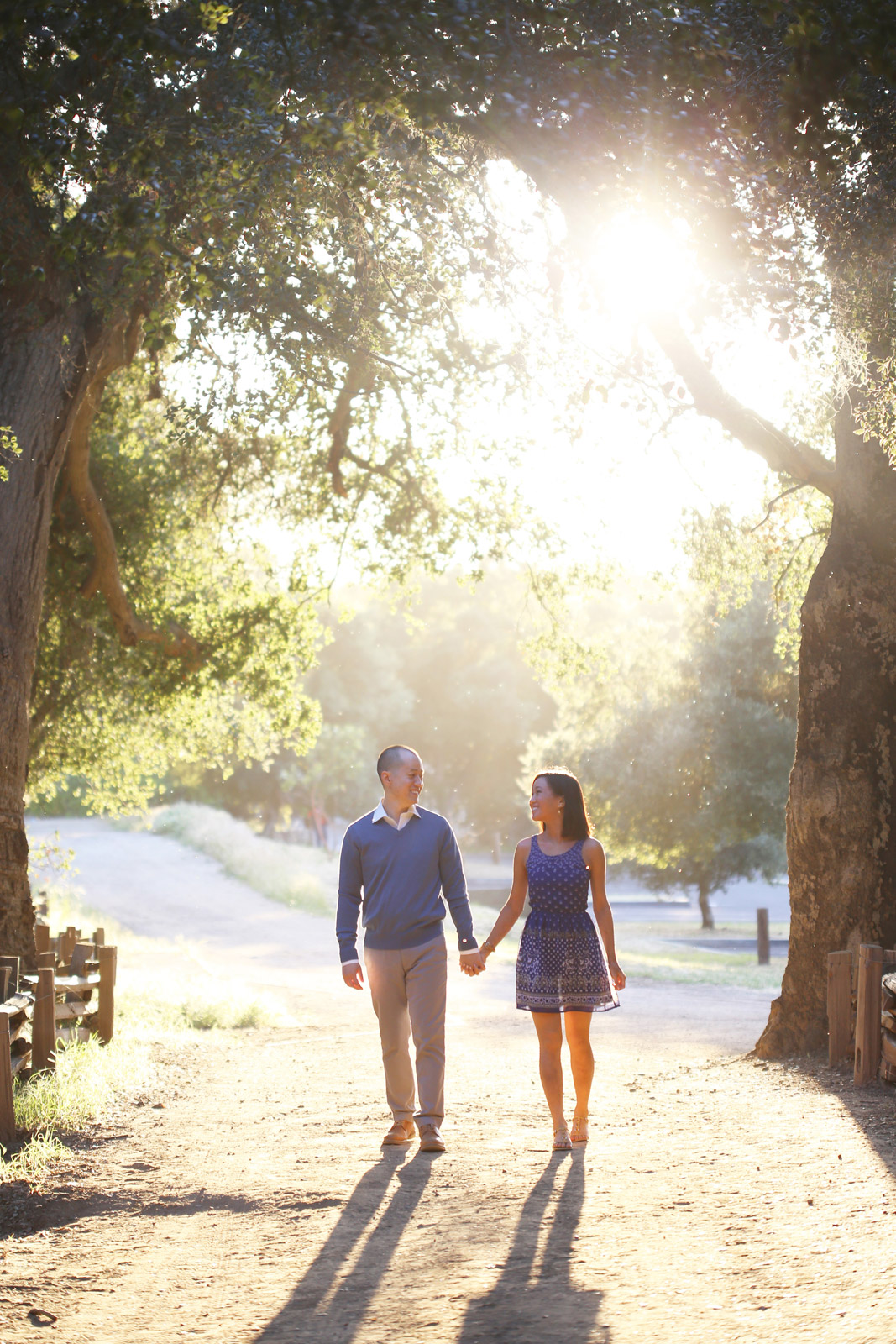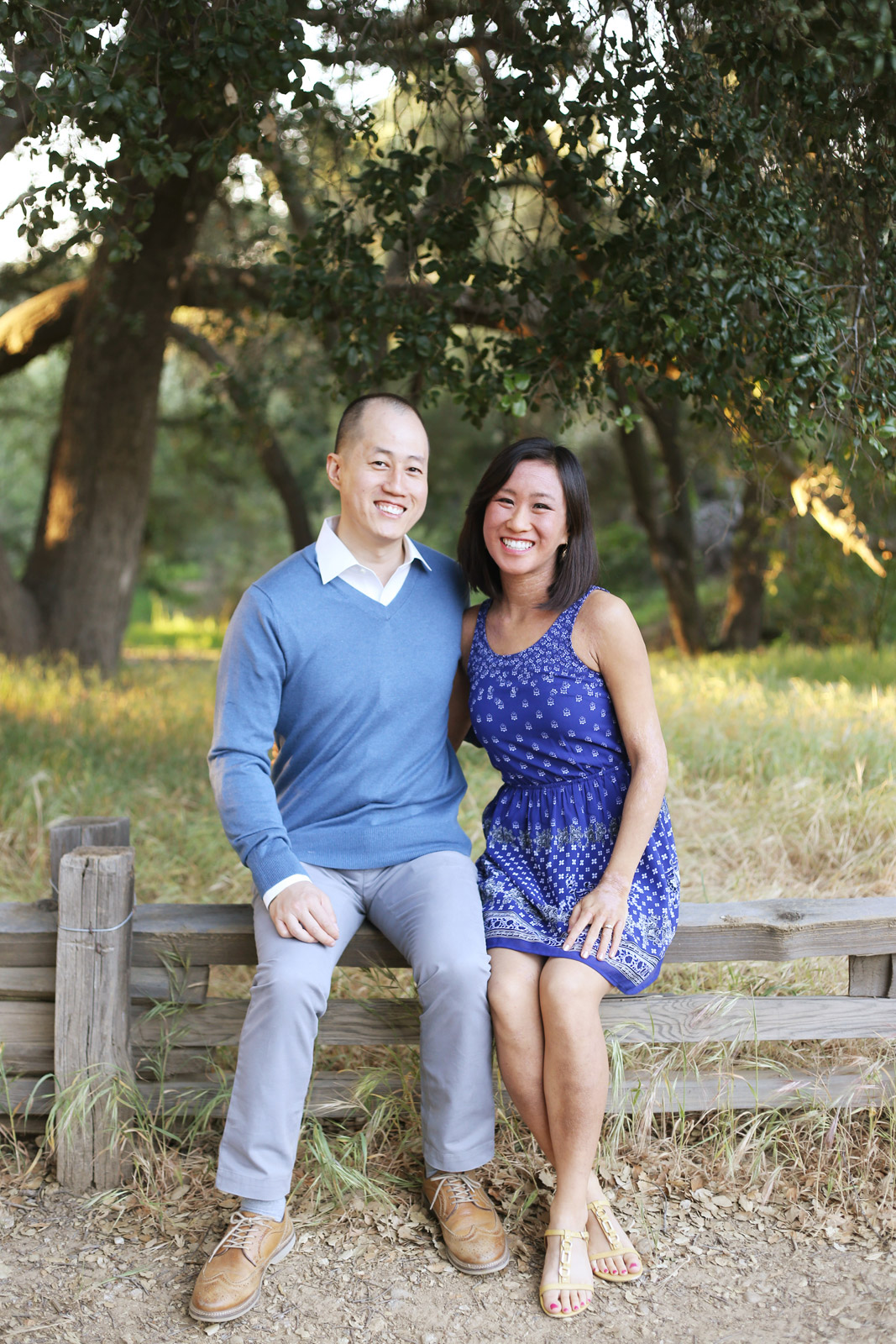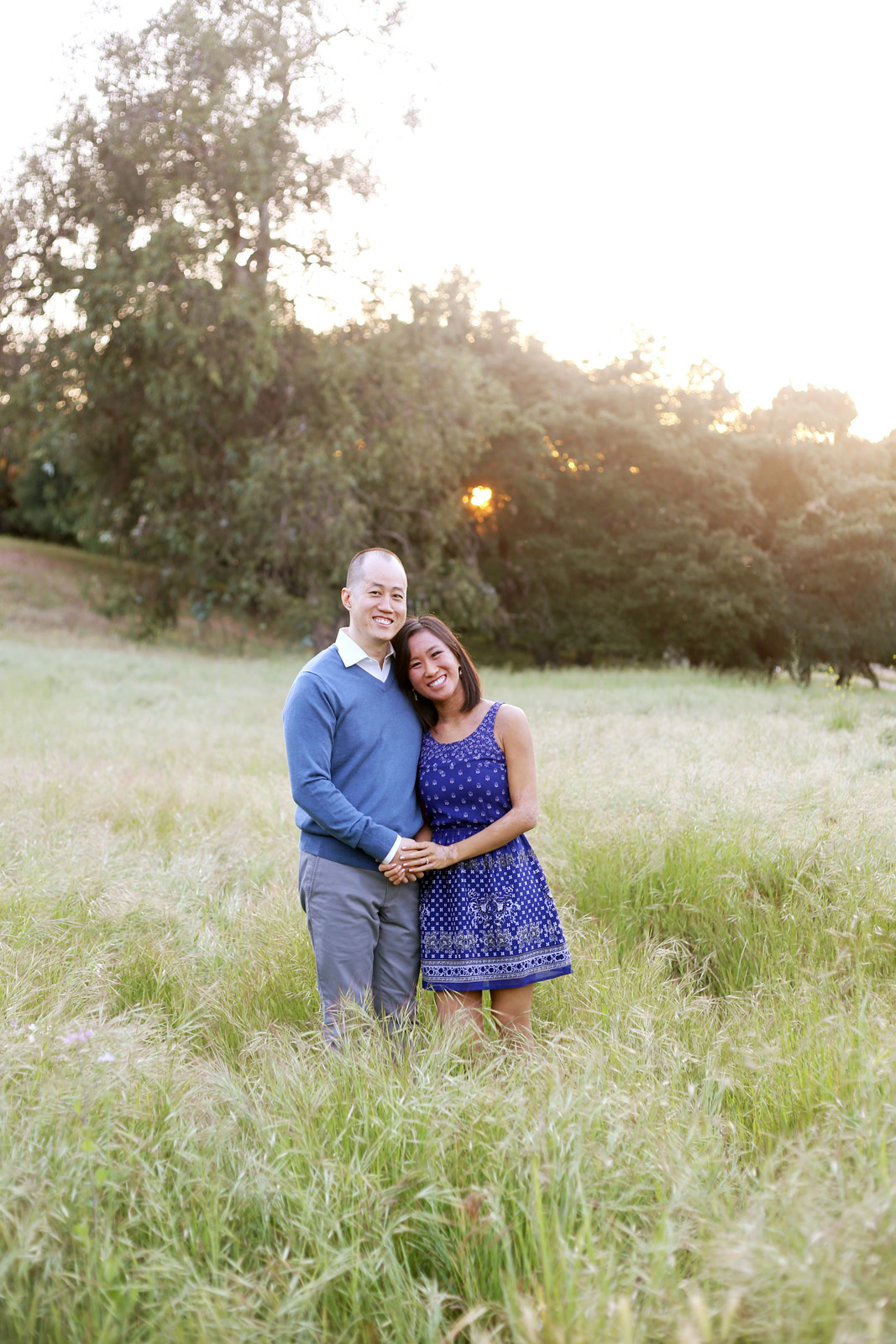 It was really nice to not have to be behind the camera and set up a tripod and fiddle with focusing and camera settings! Lauren and I do the tripod thing quite a lot and we tried to take some photos ourselves back in March at Descano Gardens in Pasadena. It's a really nice place to visit, and neither of us have been there before.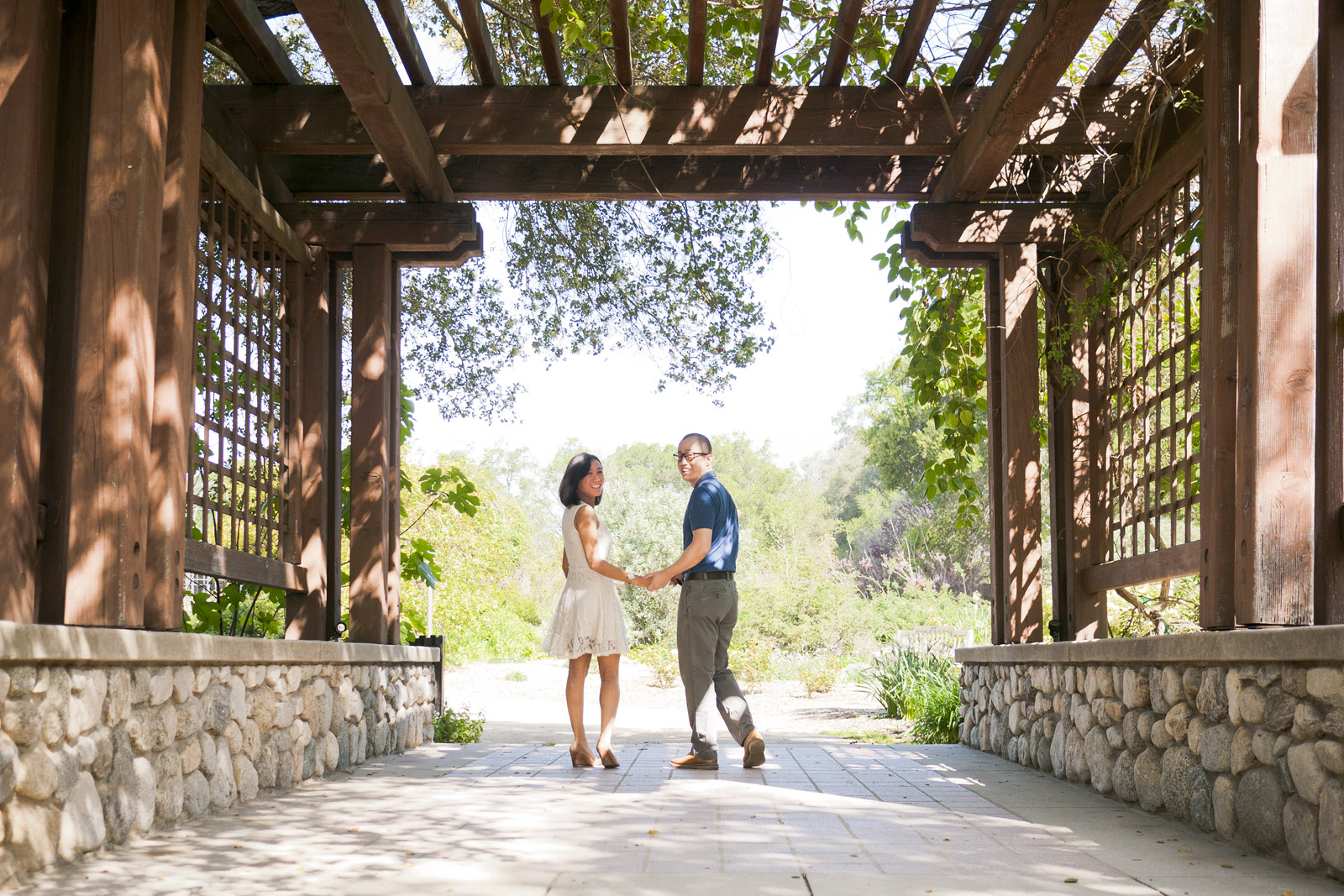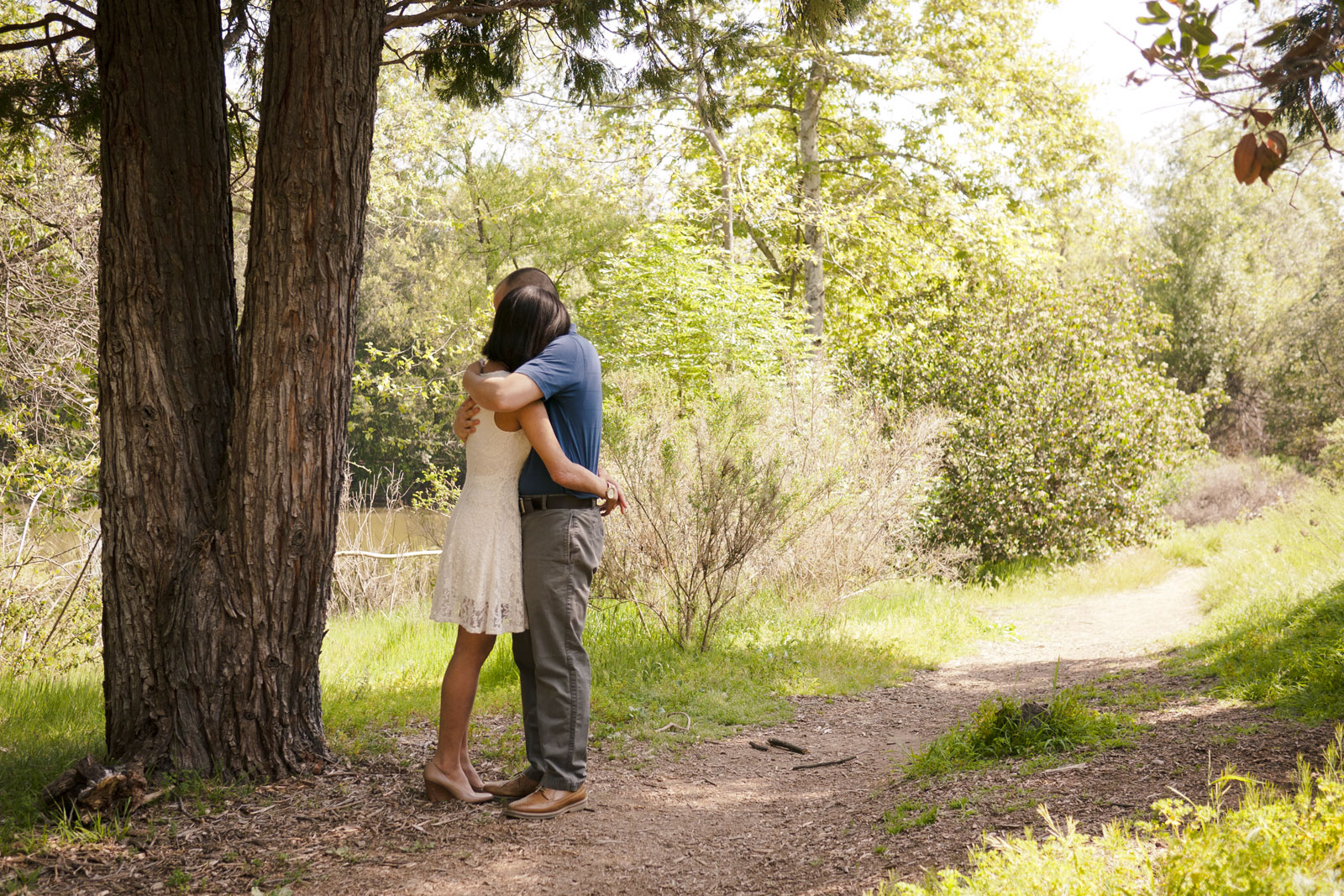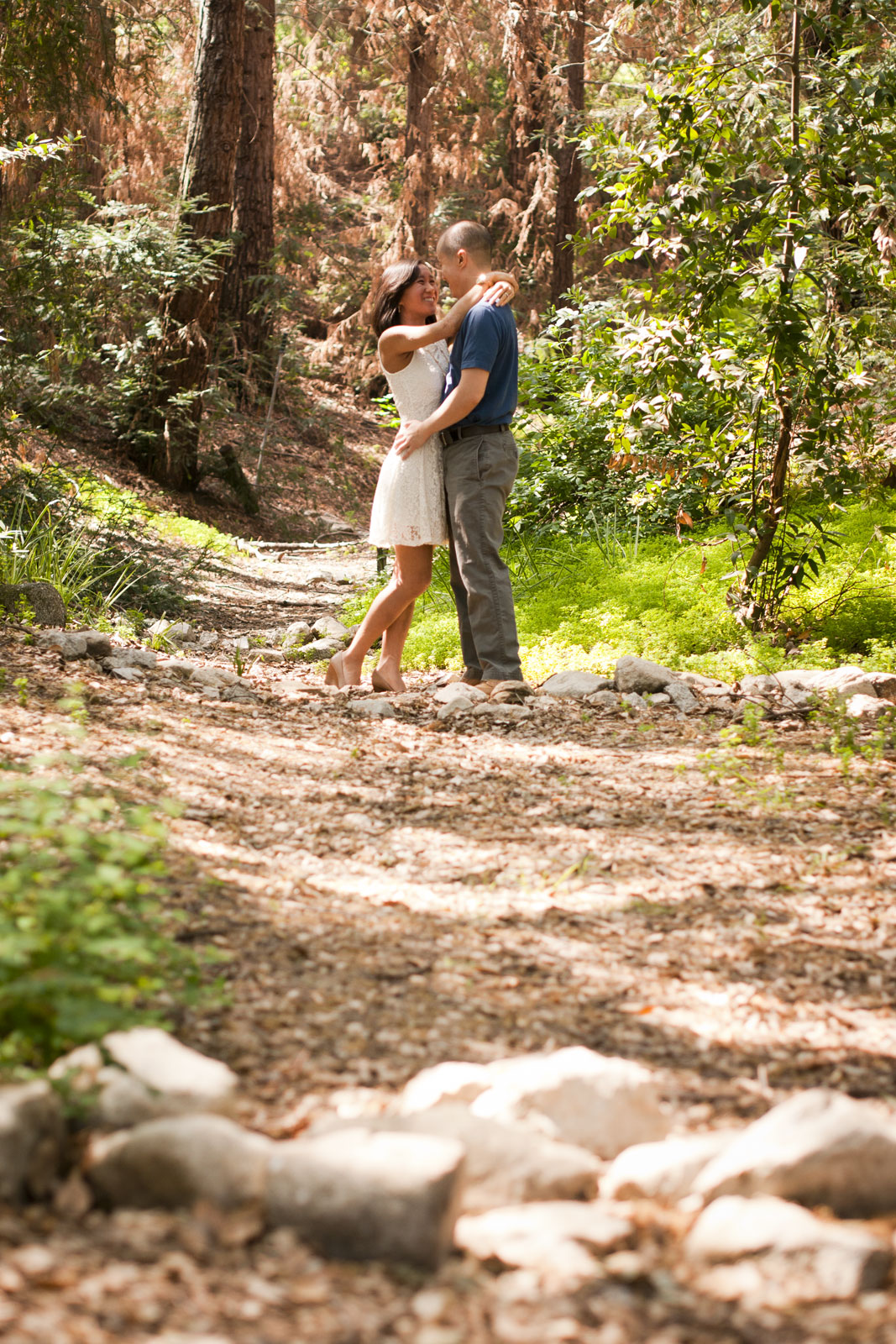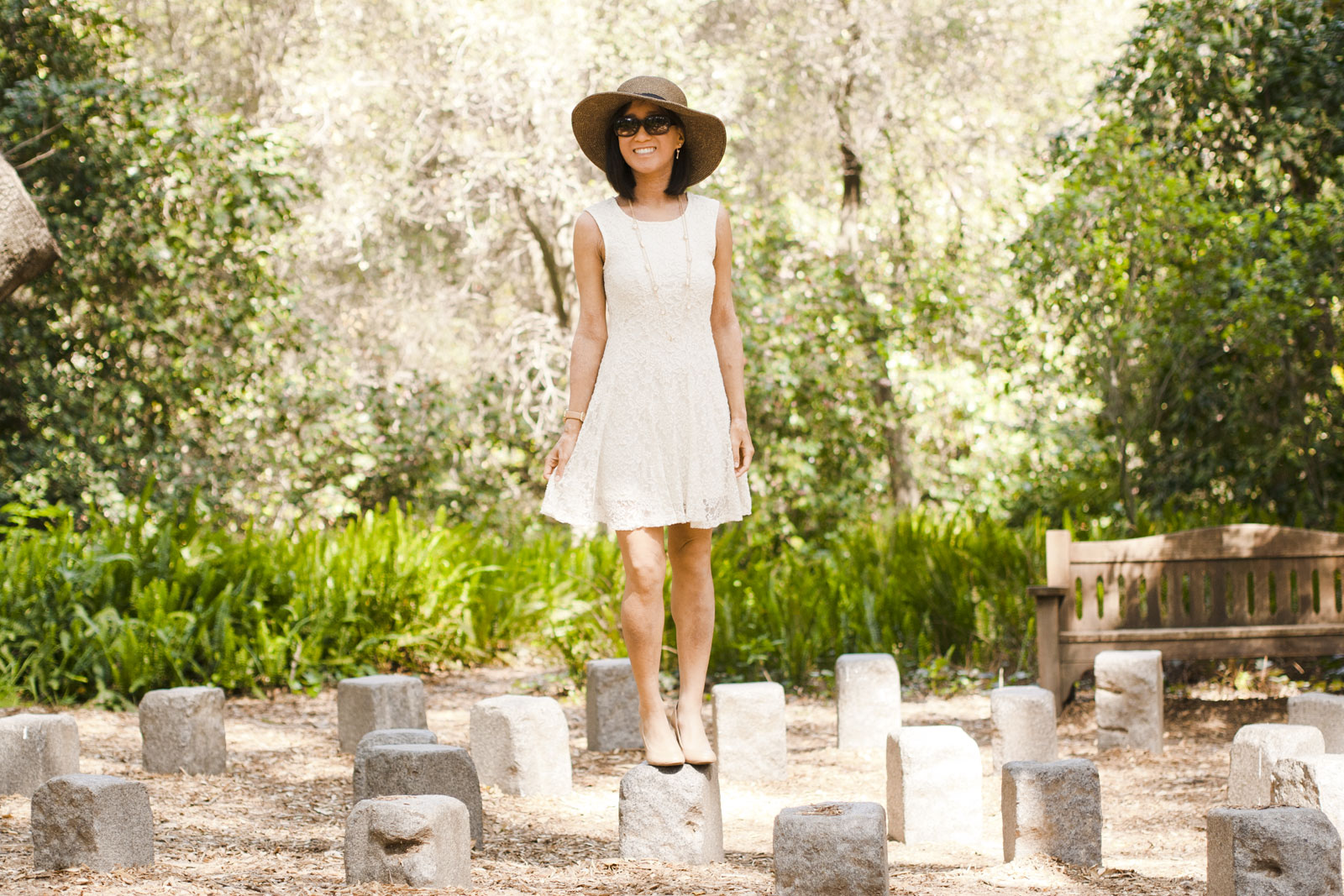 Earlier this year, Lauren and I were driving around LA thinking of places to live and although initially we were wanting to rent (to test out areas where we might want to buy), we quickly realized that renting in LA was going to be expensive and it may be beneficial to buy in the long run. Then we quickly realized that buying in LA would be pretty expensive too. So we tried to balance price, commute, and schools (finding two of these things is easy; finding all three was impossible) and narrowed it down to three different areas (Valencia, Northridge, West Hills) before settling in at a place in West Hills. Signing all the papers and forking over a large chunk of change was a bit overwhelming, but it felt good to find a place we could call home for now. And of course we couldn't close escrow and enter our house for the first time as home owners without setting up the tripod for a photo-op.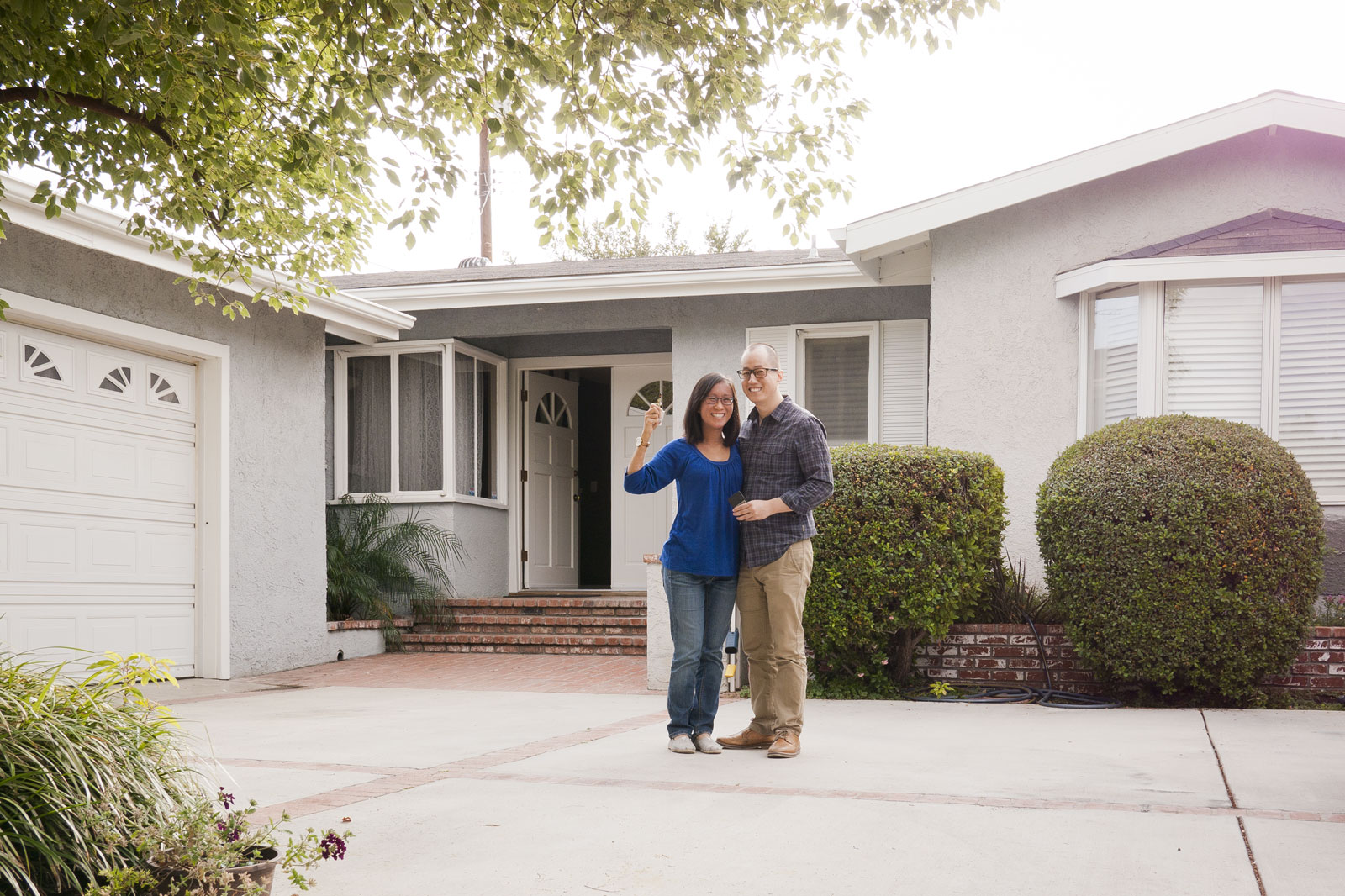 May, the month before our wedding, was busy. We finished the bulk of the home repairs and refinishes. She finished most of the wedding preparations/decorations/flowers/vendor arranging/programs. And we went to four weddings – two of my groomsmens', our small group leader's, and one of Lauren's high school friend's. Two of them were back to back the same weekend! It was really exciting to see our friends get married and the feel of each wedding seemed different. I guess you notice stuff like the feel of each wedding when you're planing your own. We traveled a lot for each wedding and for Vincent's we got to go up to the New Hampshire area where we've never been before. It was beautifully green up there much different from the concrete landscape of LA, and we even got a chance to go up the coast of Maine before we left. I had a lobster roll for the first time at this place. It was delish.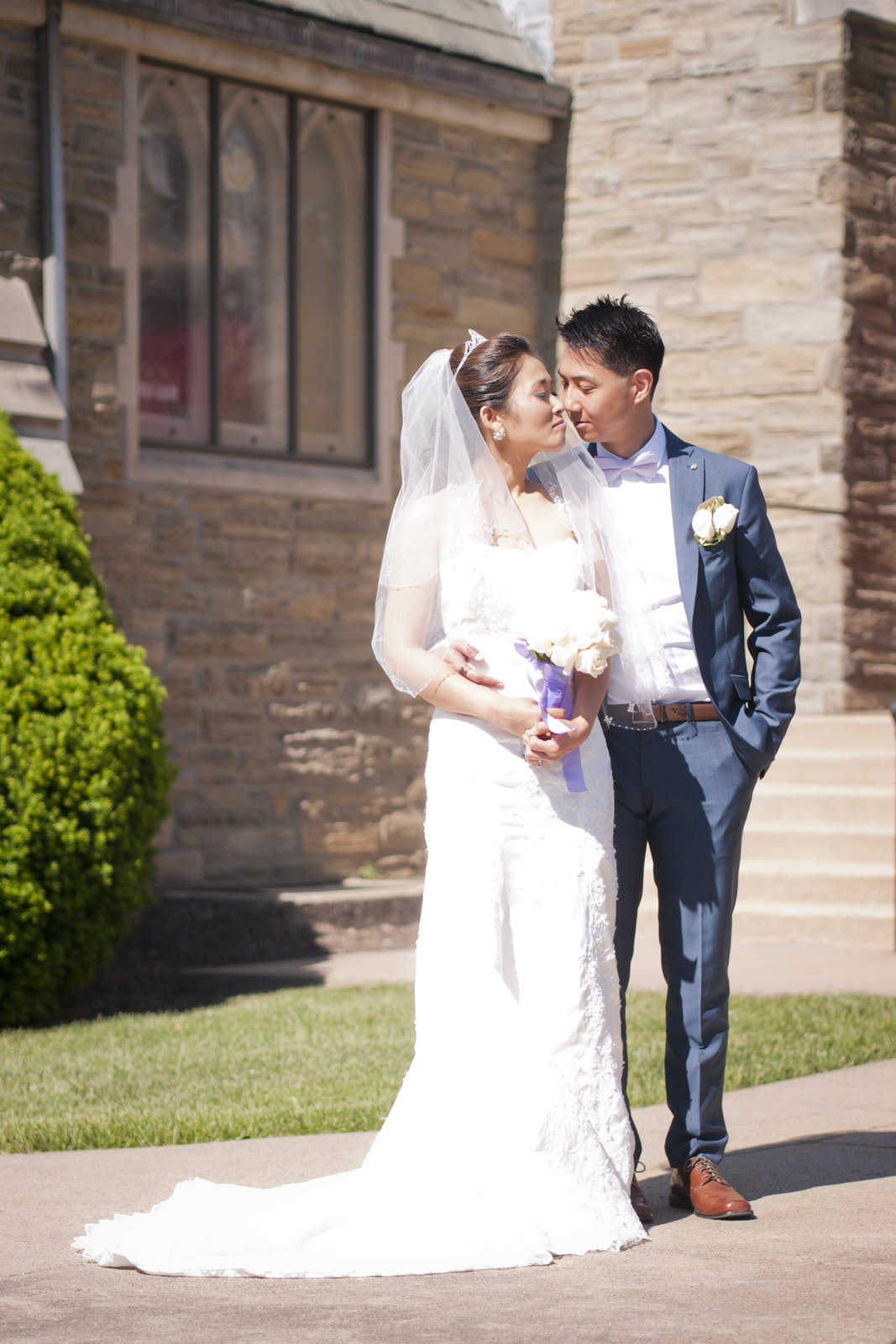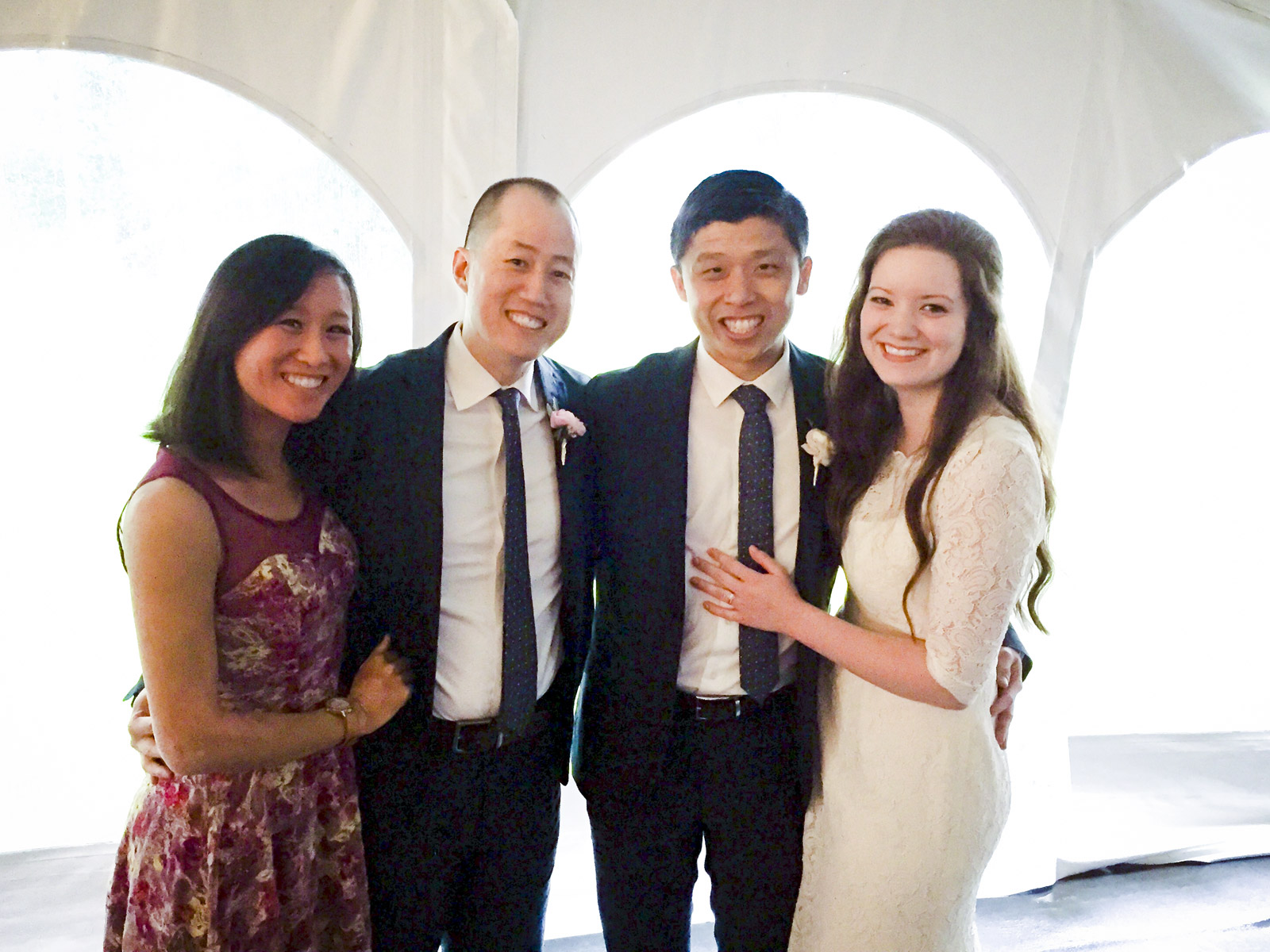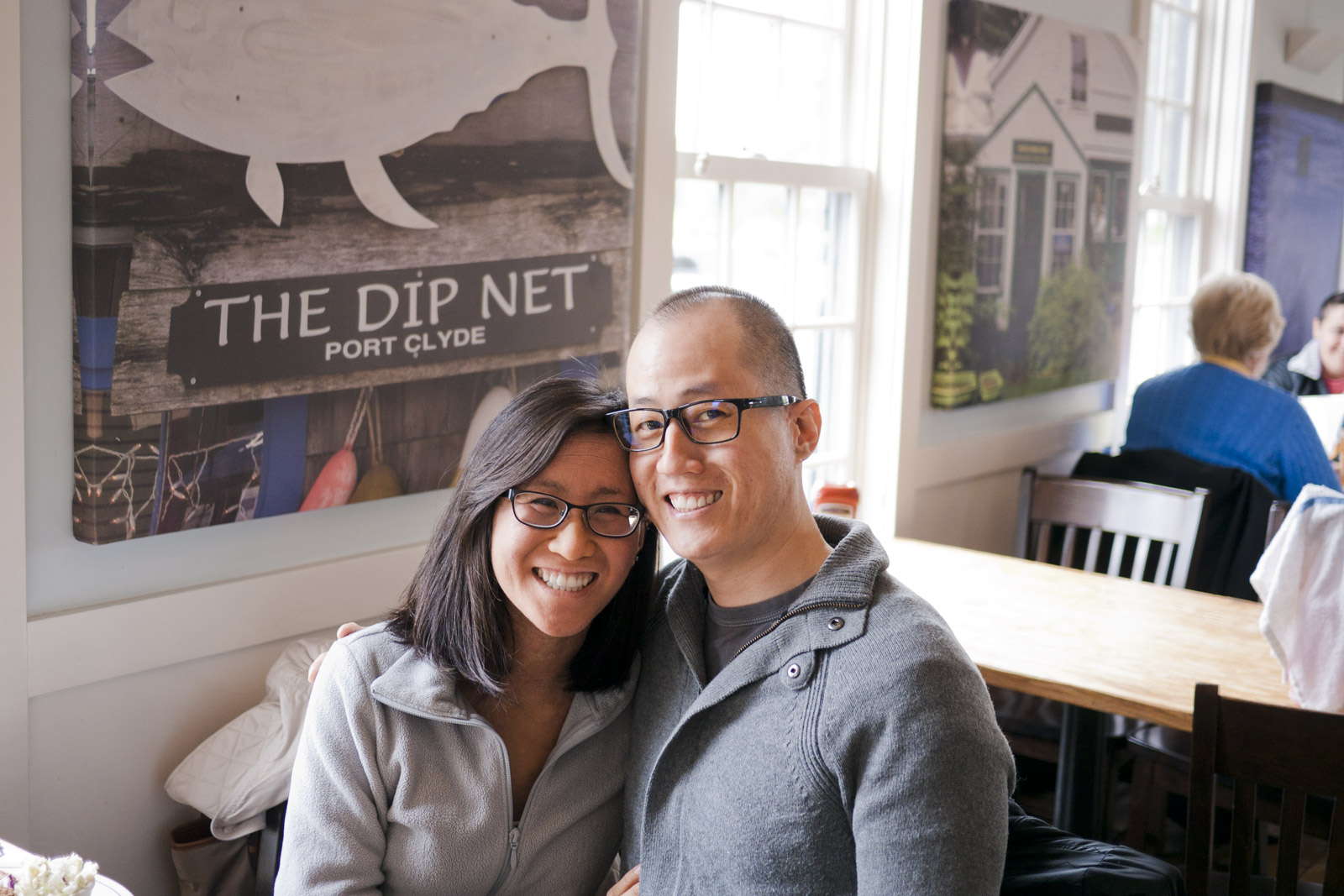 I remember constantly asking Lauren, what if we lived in a place like New Hampshire. A place more secluded and less crowded and less smoggy. I think we both like the idea but I suppose a change of scenery has never been a reason for us to move in the past. I guess it's always been school or job related. We have friends and family moving to NYC and South Carolina and that'll be a big change in landscape but I suppose they're also motivated by a job.
So after we came back from our wedding travels we started putting the last touches on the wedding. I assembled our cake topper, cut mattes for our photos, and did a last minute borders for the photobooth and ceremony program.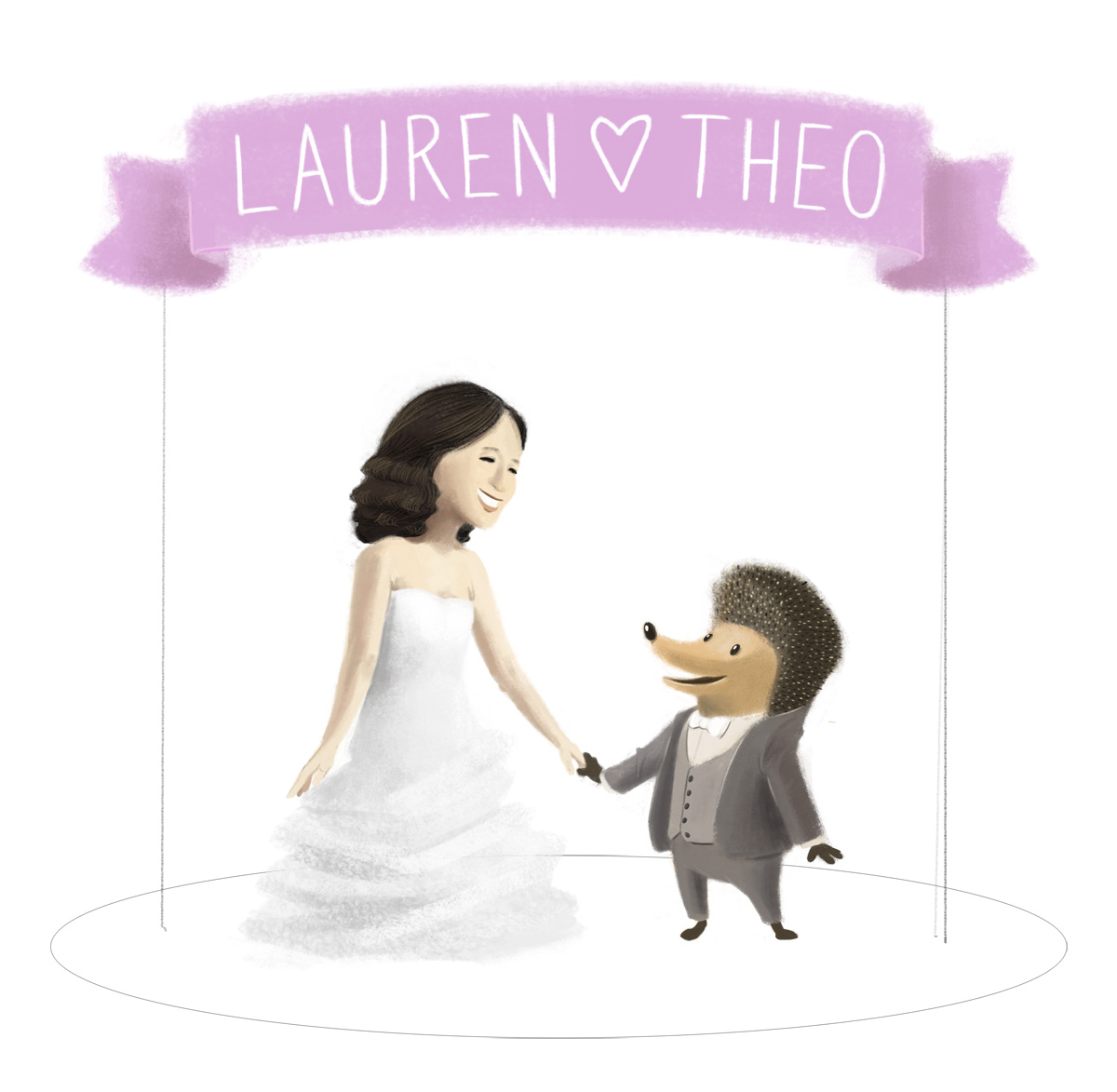 Aside from a few art projects, Lauren did pretty much everything. The day before our wedding, seeing all the family and friends together during rehearsal, I just felt really happy to see everyone all there in the same place. I also felt tired. I never knew getting married (compounded by home buying) could be such work! Sorting through who would do what when and how was mentally exhausting even though Lauren was doing most of the heavy lifting. But at the dinner rehearsal, when there was nothing left to do, I felt just happy to be sitting with my groomsmen and having a meal. Considering they're all a healthy drive or a plane ticket away, that doesn't happen too often anymore. Anyway, we eventually called it a night and I went back to my hotel room I was sharing with Nick, who shined my shoes for me that night!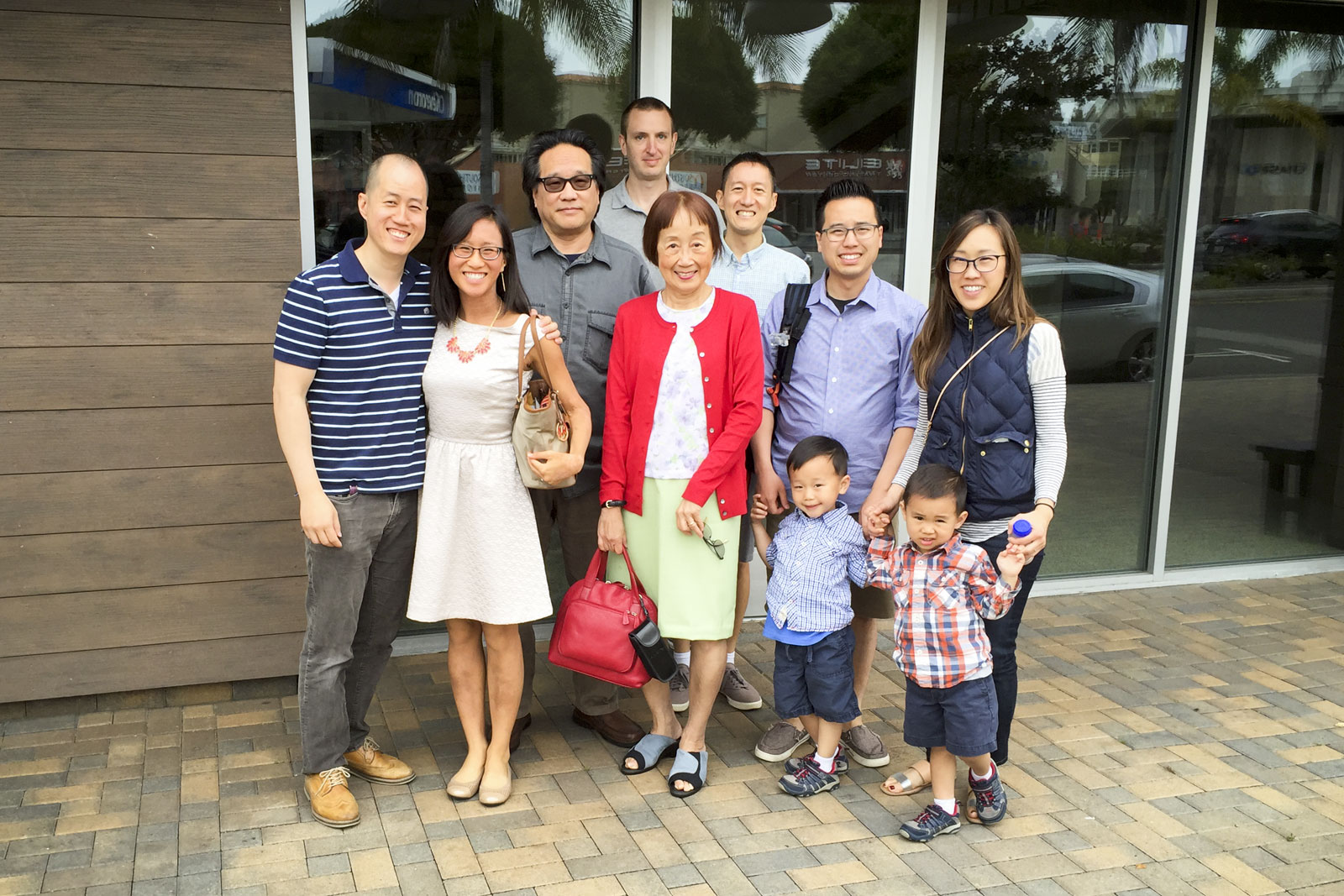 I didn't sleep a lot the night before my wedding. Maybe a few hours. I was thinking about all that might happen the next day. People I'd see and things that we didn't plan for. And my thank you speech. I've spoken at a number of weddings and some of the speeches turned out ok, but most of them were filled with so much awkward pauses and awkward silence and awkward phrasing that I'm a bit self conscious about them. It felt a little weird to be so nervous on a day that was supposed to be a celebration but I was.
I got up early and one of her bridesmaids gave me a gift and letter from Lauren. It was a wooden wrist-watch with an engraved backing, "You got me – Lauren, 6.13.15" from this song we used to listen to. I had brunch with Kevin, Ed, and Nick, and Kevin suggested I write her a card to thank her for the gift so I drove to Target, wrote the card, showered, dressed, and got ready for our first look in the hotel courtyard.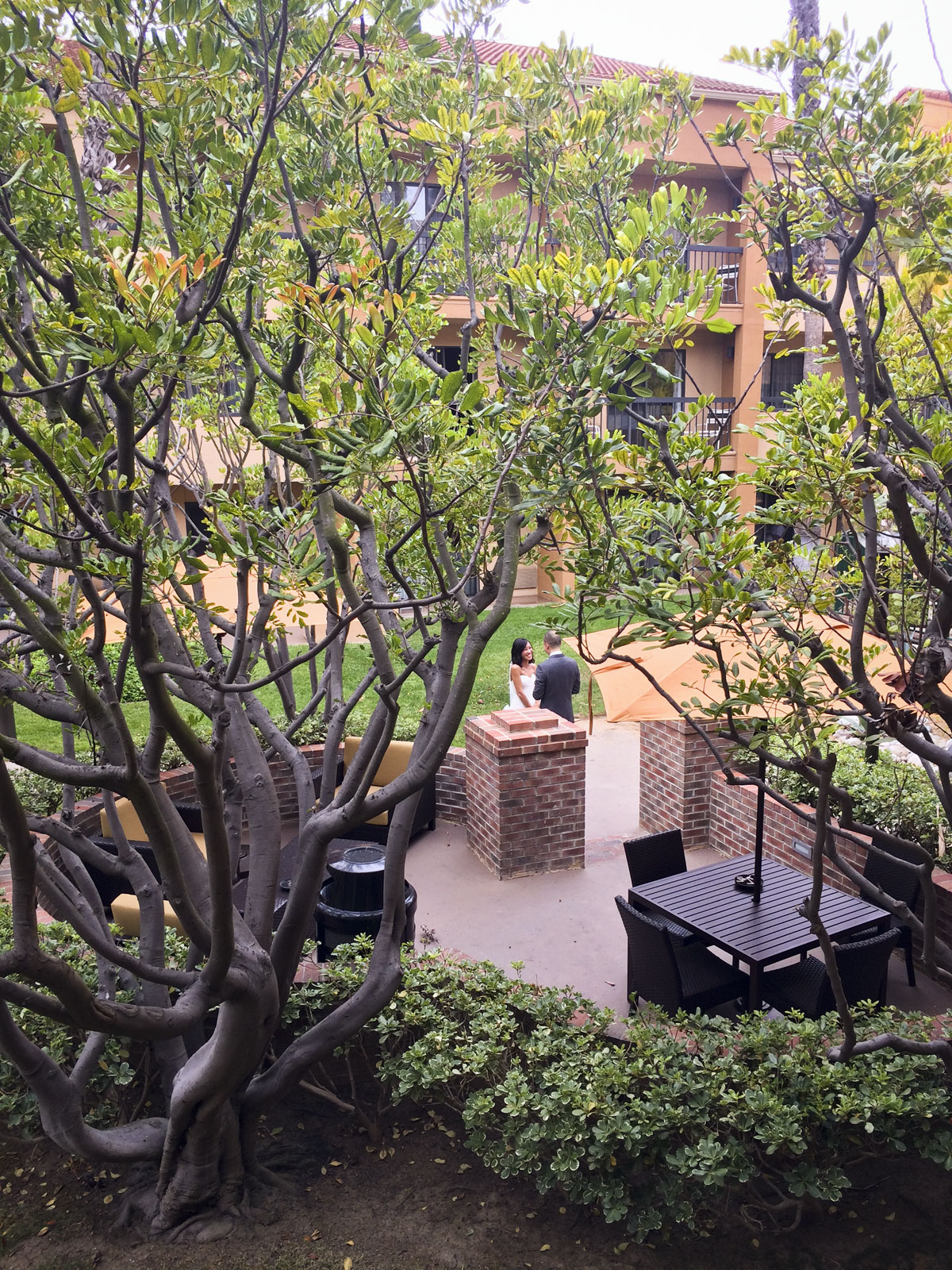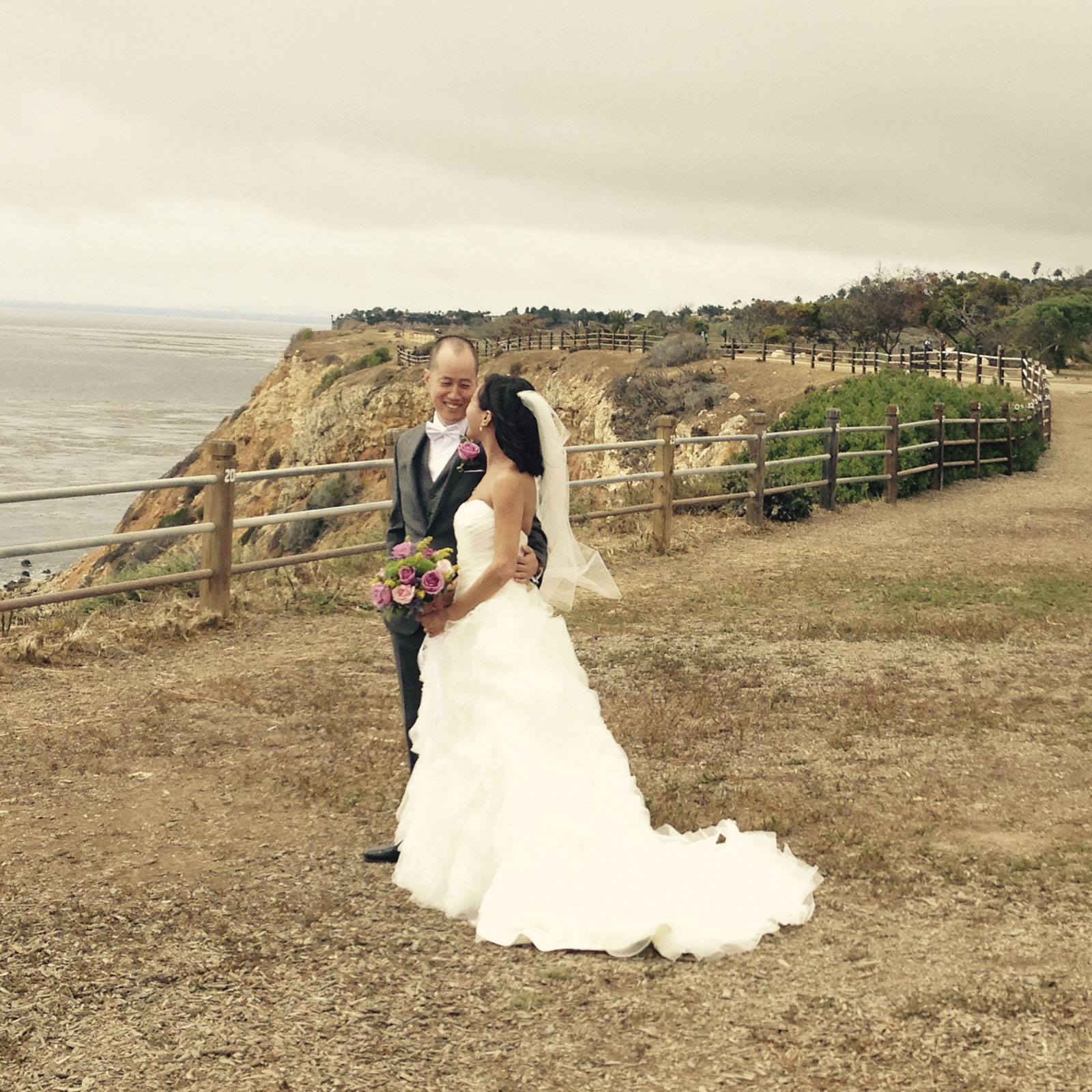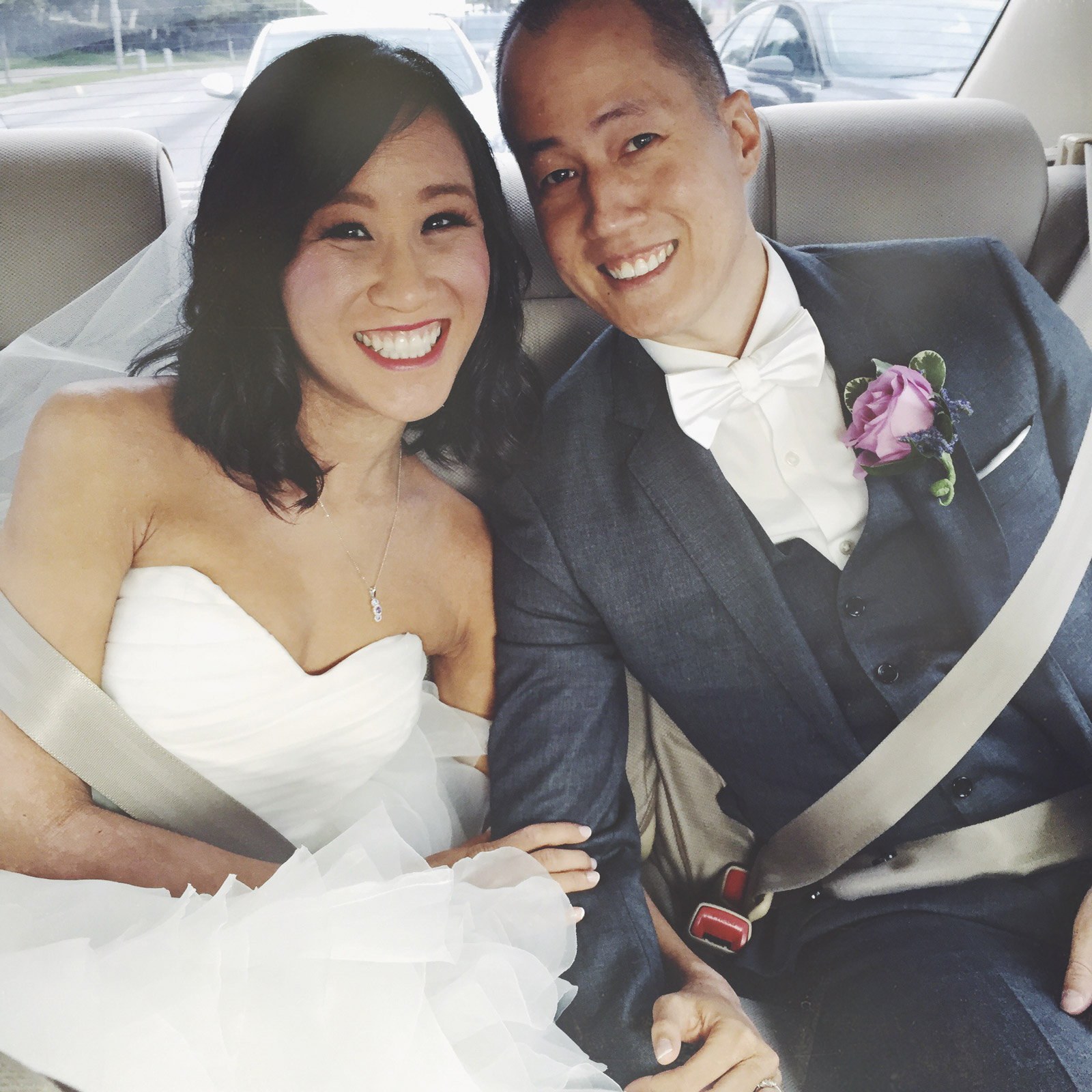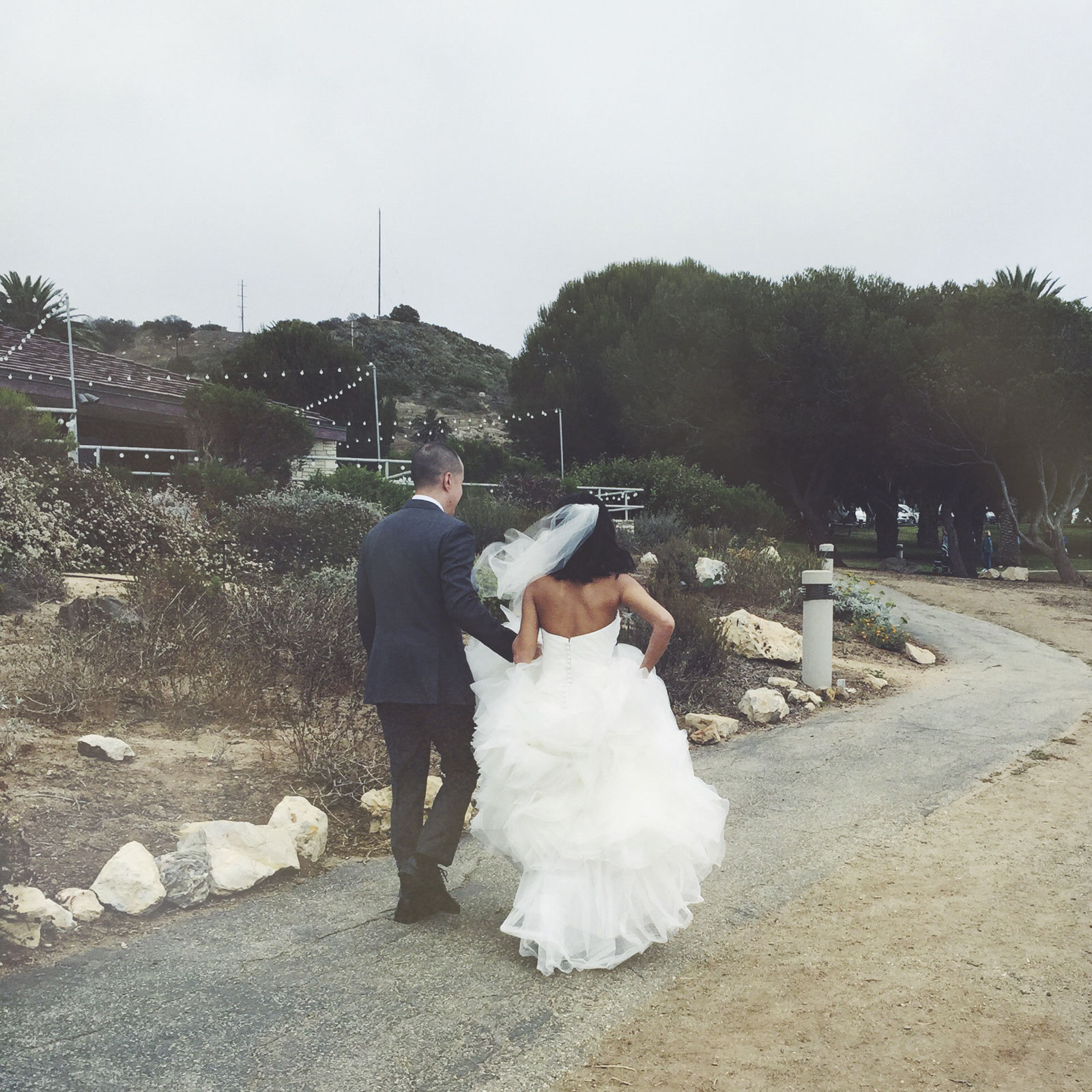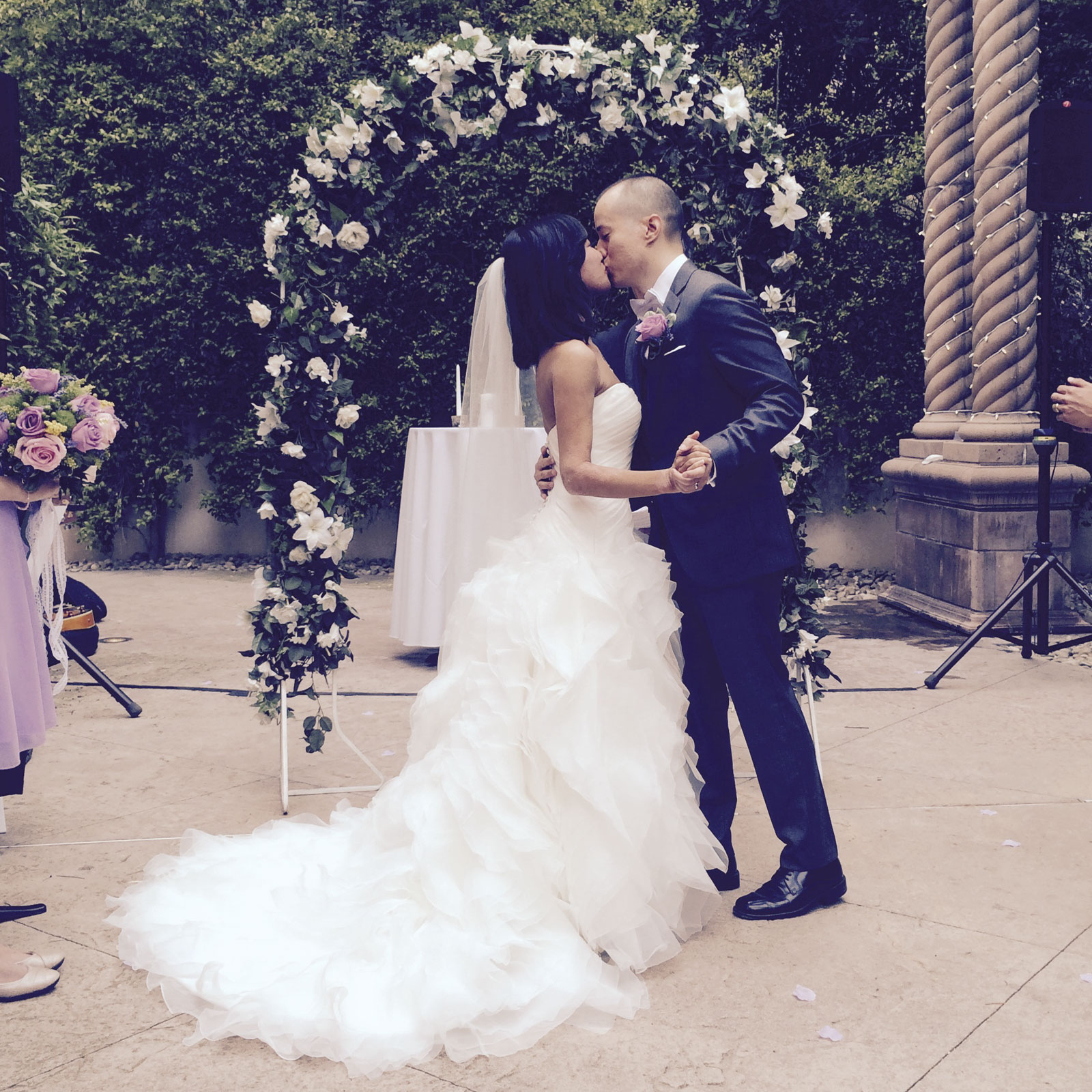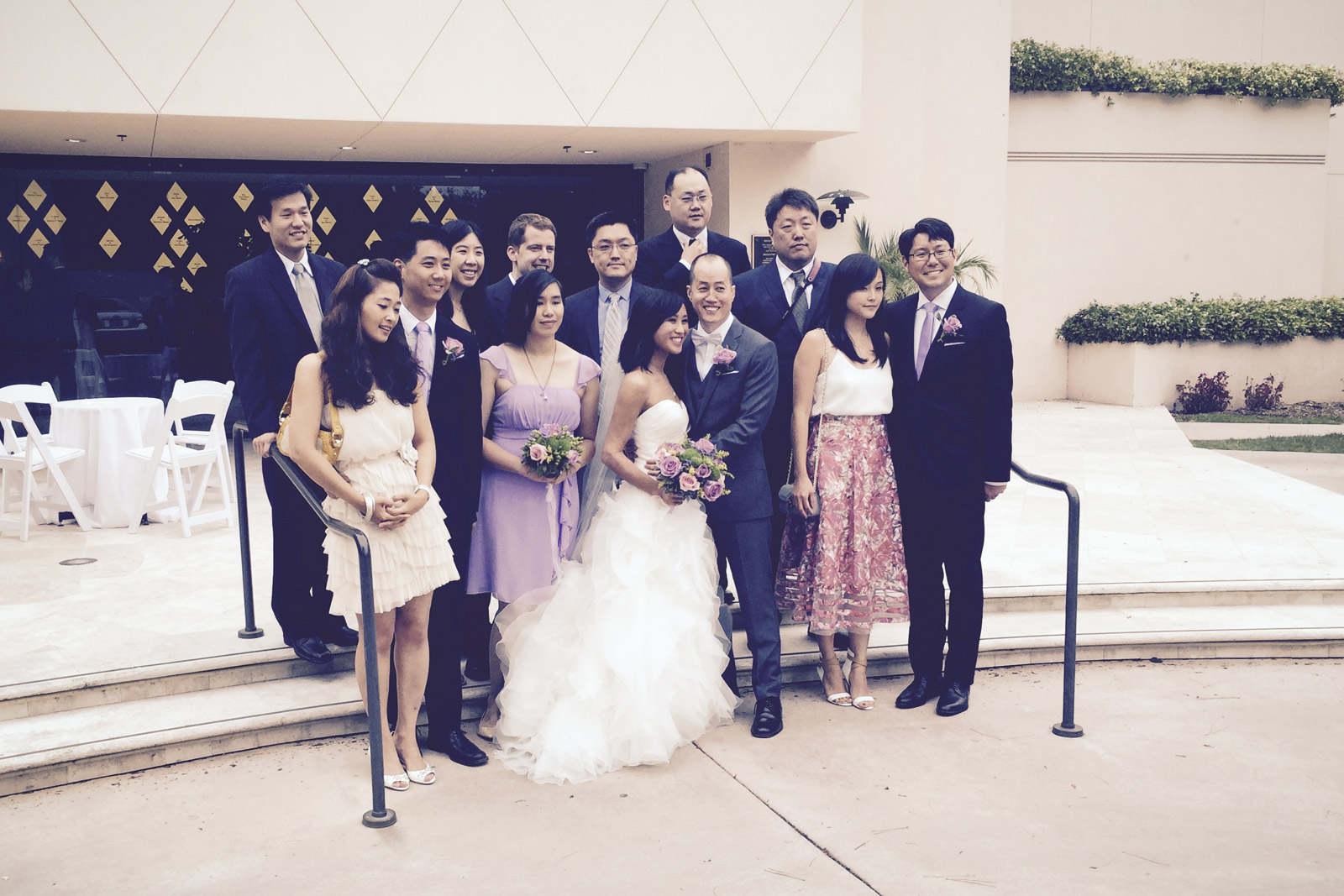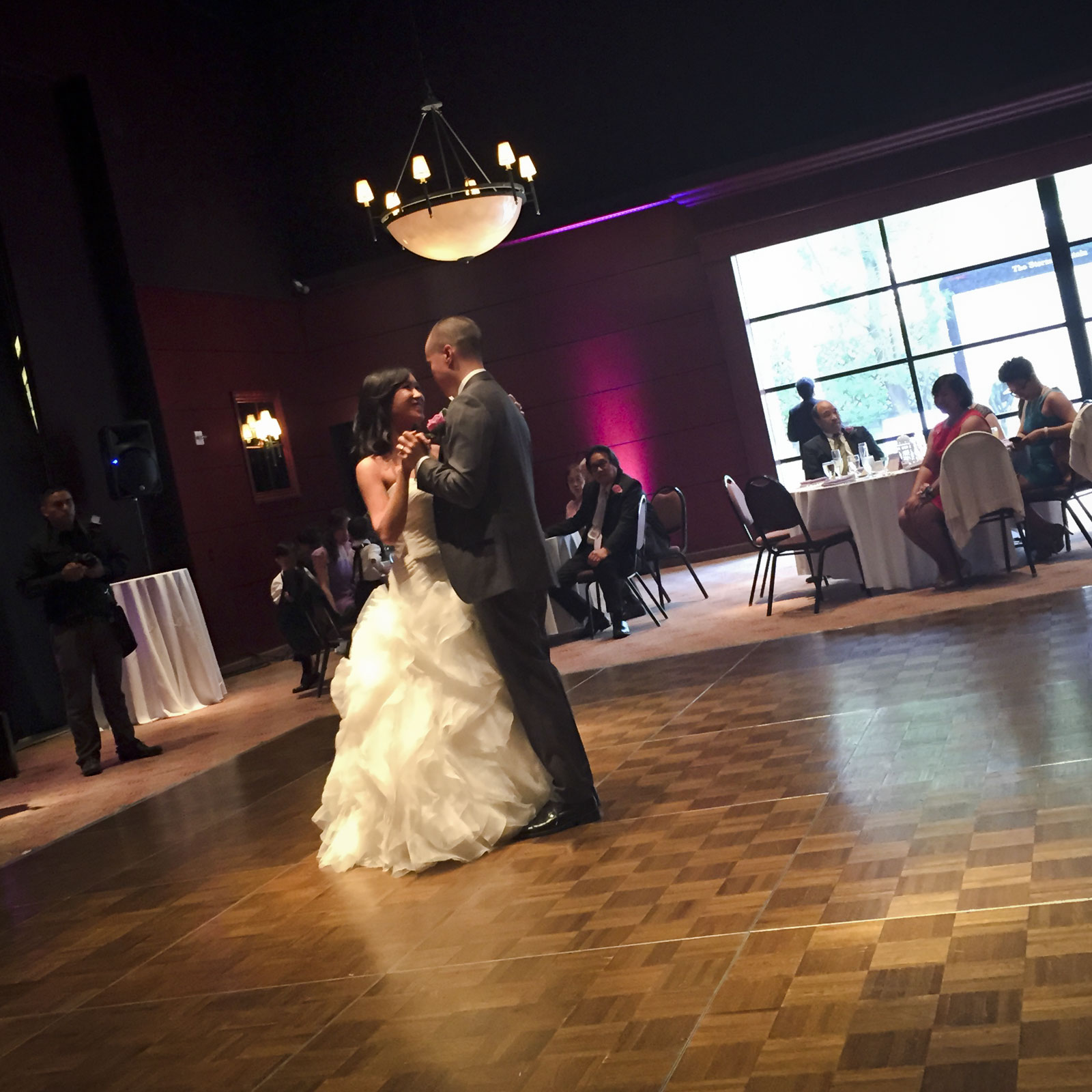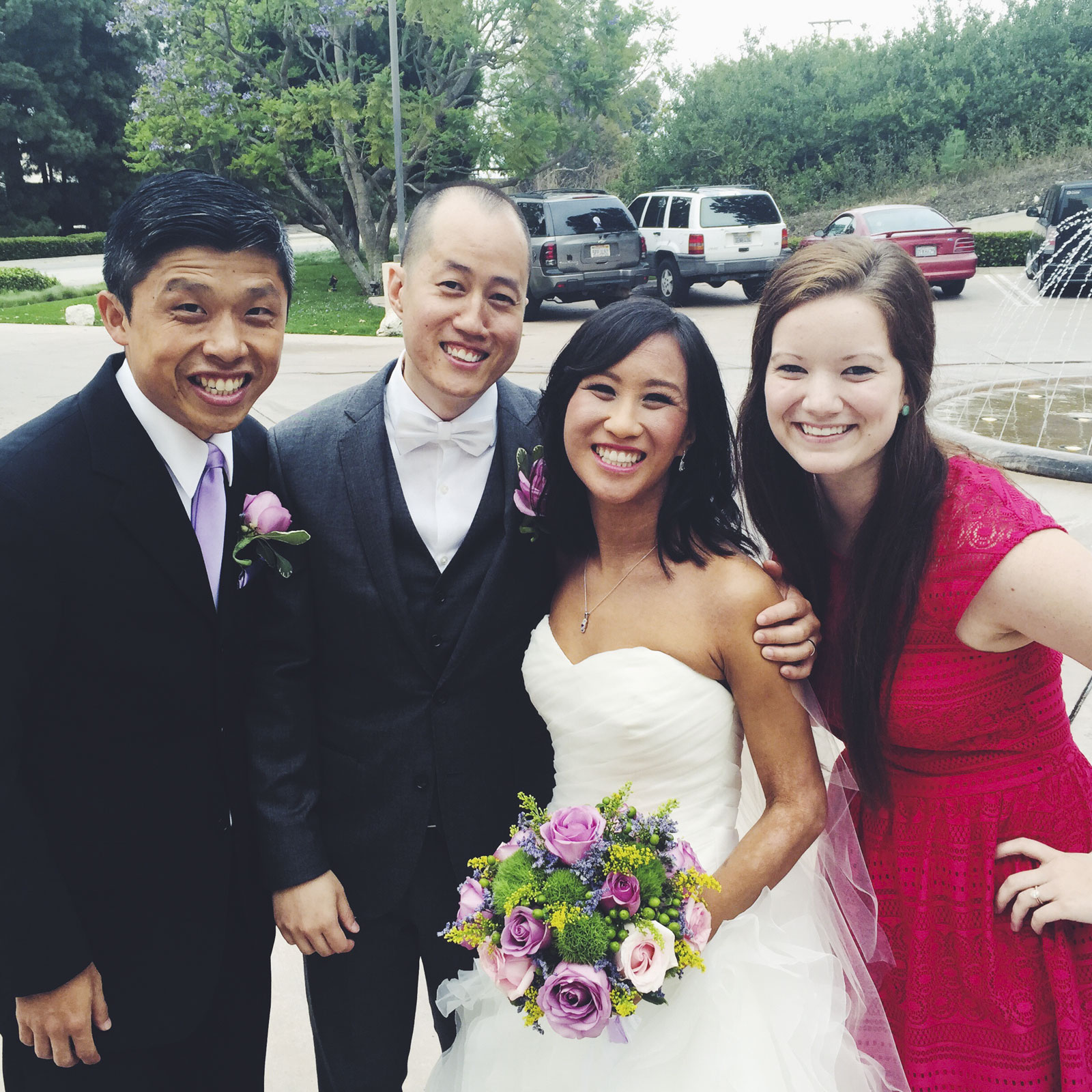 I remember feeling so thankful the rest of the day, mainly for having someone that would promise everything of her to me. (I felt like I was going to cry at the altar the whole time so I'm guessing I'll look like I'm frowning in most of the photos.) We said our vows and I promised to love and be faithful to her for the rest of our lives. And then we took photos, ate food and cake, played games, and greeted everyone who came. Sort of. I'm glad I got a chance to say hello and talk to some people I don't see often, but most everyone else I hardly got to talk to, and it didn't help that I awkwardly called someone by the wrong name. My thank you speech went ok. Like most of my speeches, it was generally outlined in my head. I got to say 80-90% of what I wanted to say, so I suppose it could have been worse :).
We remembered we didn't get a chance to take a photo of the sign in front of our venue so that night Vincent's wife, Libby, took one of us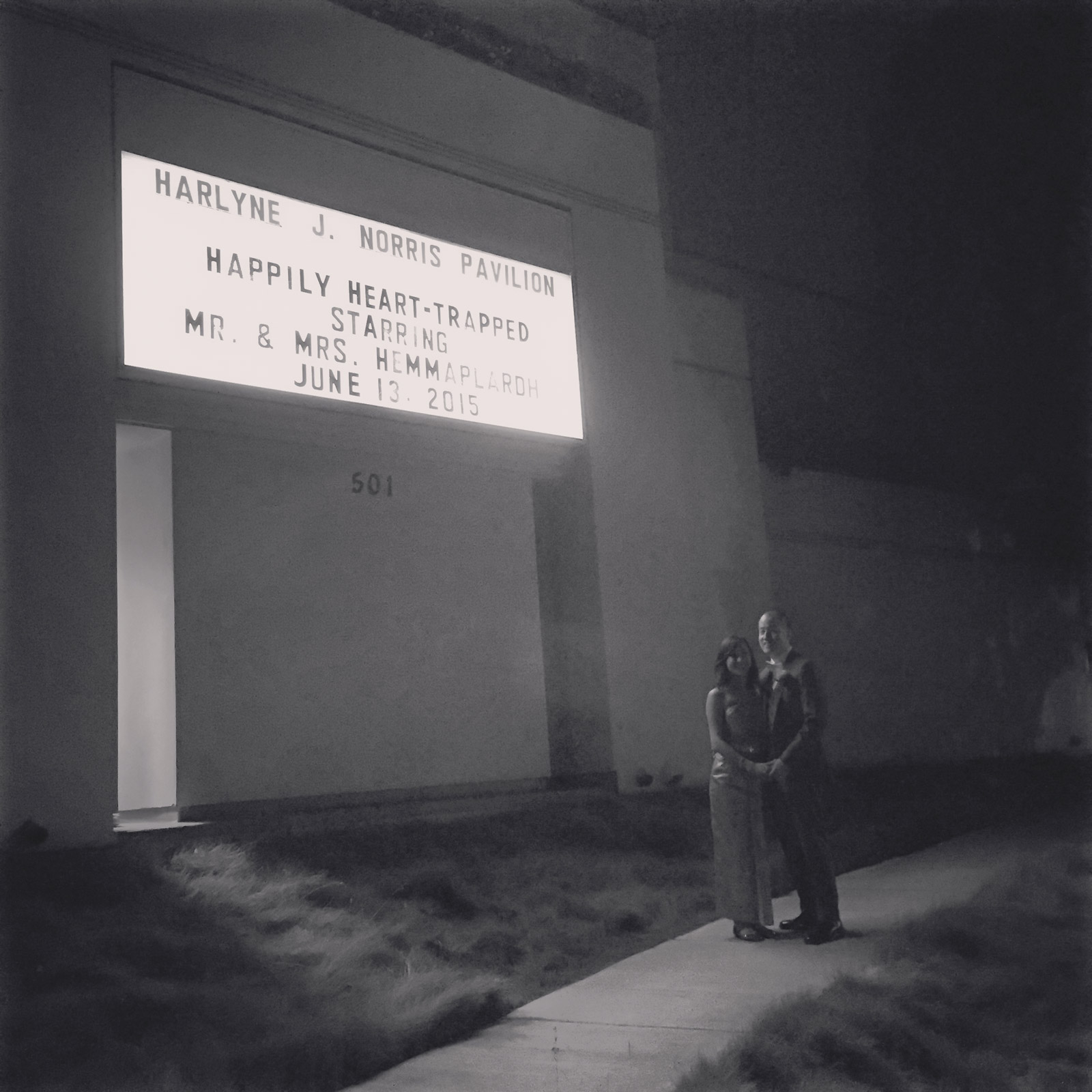 Of course, I had to try to suggest we return to take one ourselves the next morning. Out with the tripod!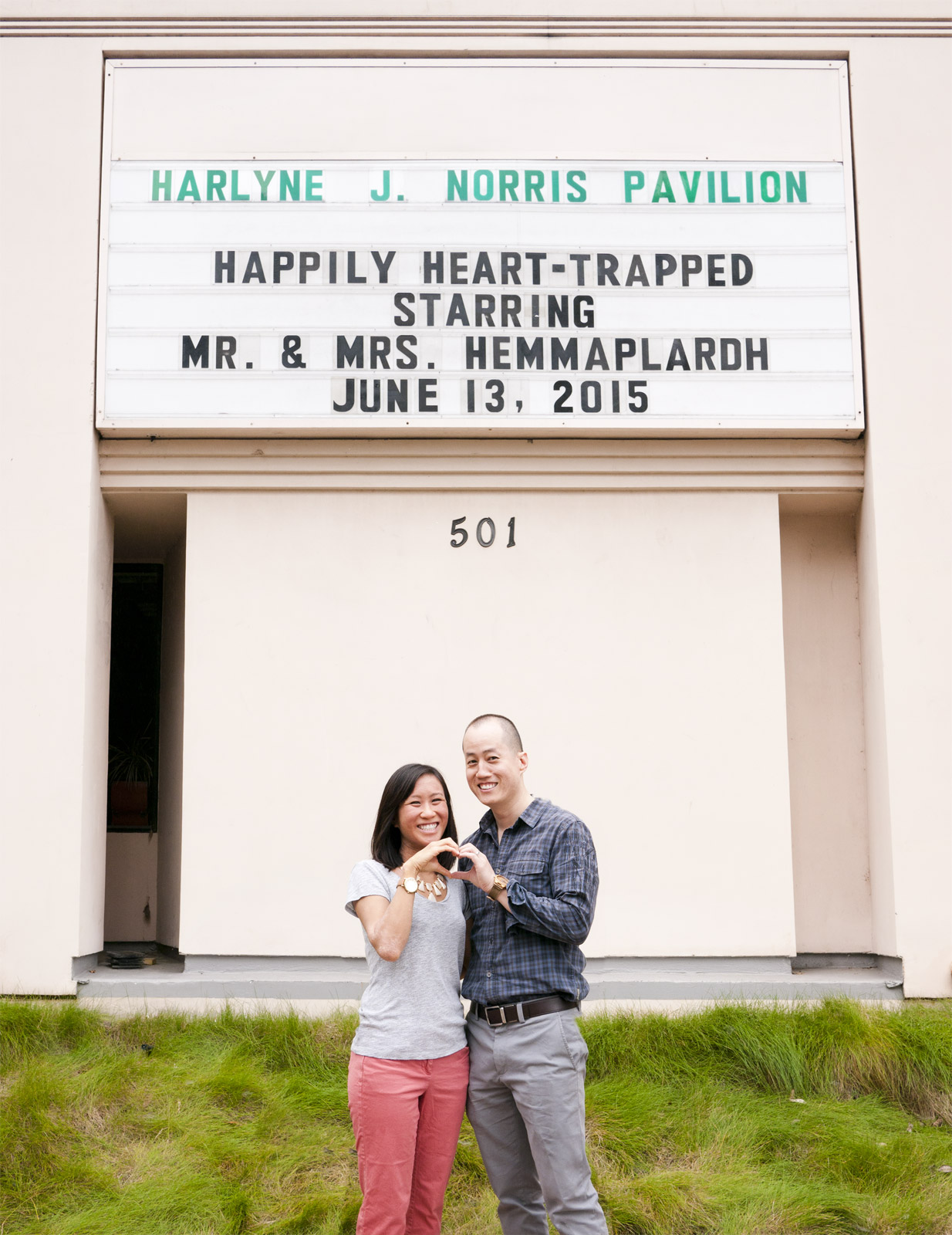 The sign references this riddle game Lauren and I used to play (and make fun of since some of the riddles are absurd and overly difficult).
On Sunday we had brunch with some out of towners and then spent time at Terranea resort walking along the ocean-line and having a nice dinner there.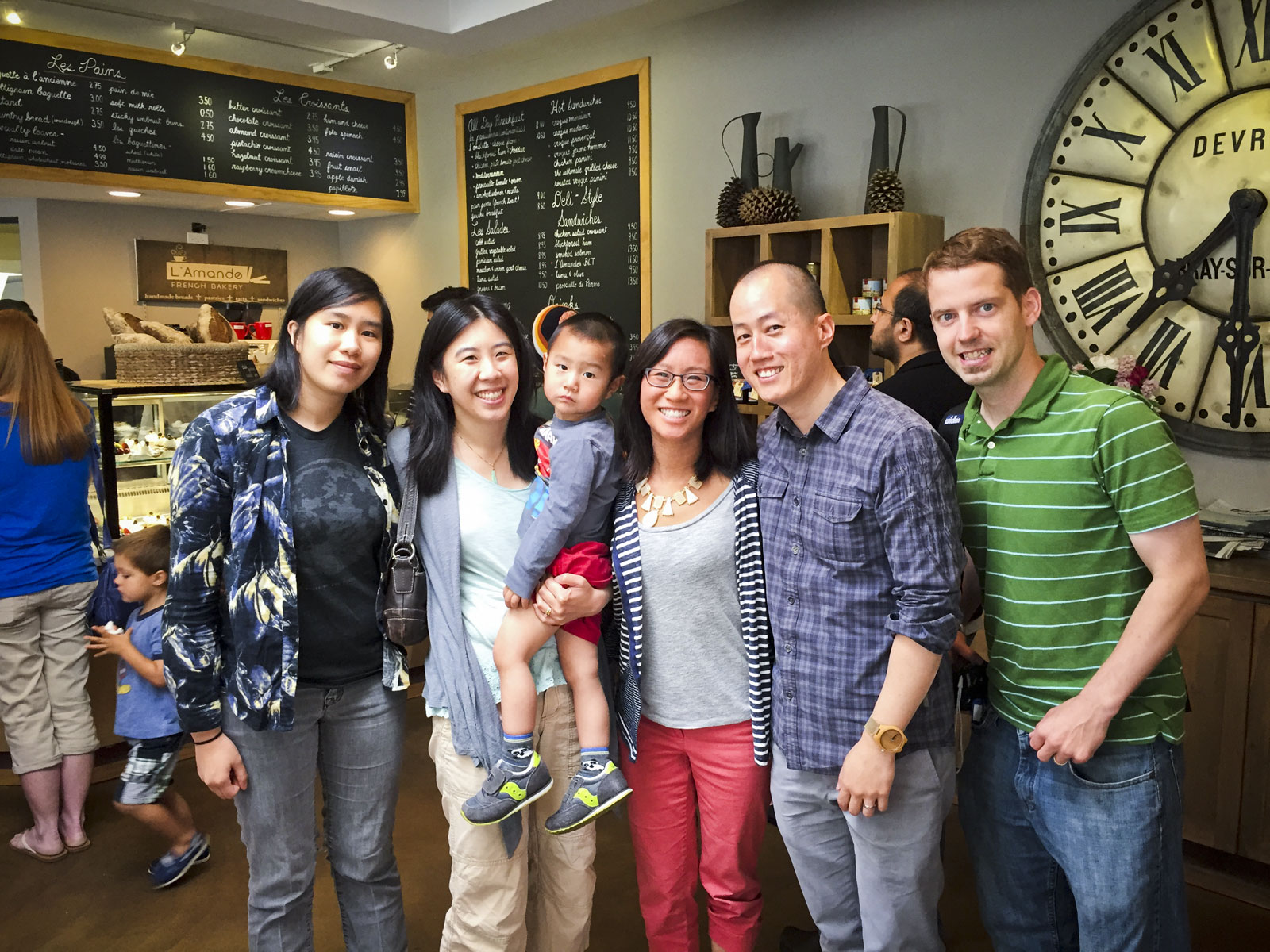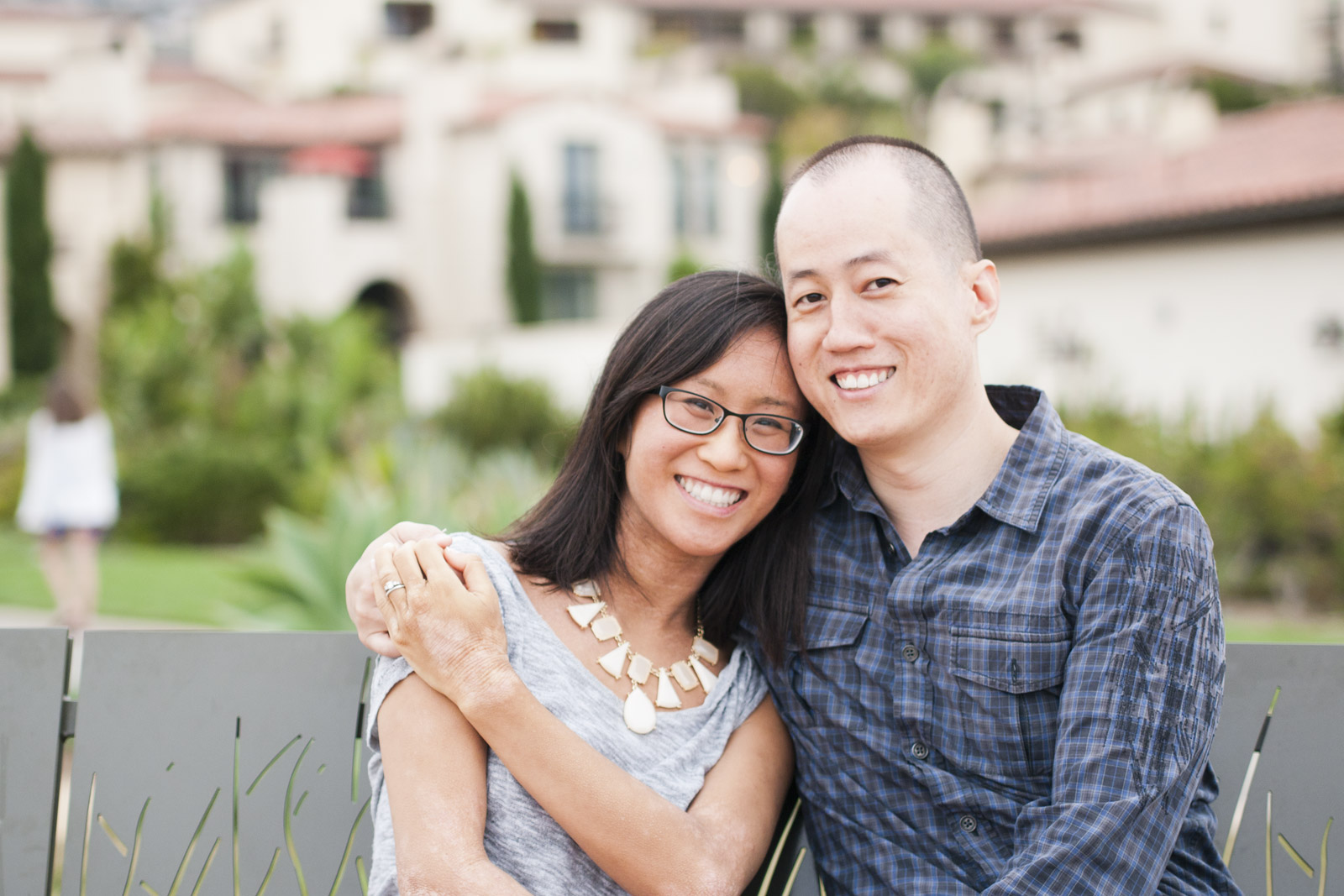 We left for Catalina Island by ferry on Monday. The entire trip was incredibly relaxing and not having wedding or house things to attend to was really nice. Our hotel room was one of the most comfortable I've been in with it's own jacuzzi (which we made good use of every night), and it was nice to just lounge around the beach area playing Carcasonne, our favorite board game.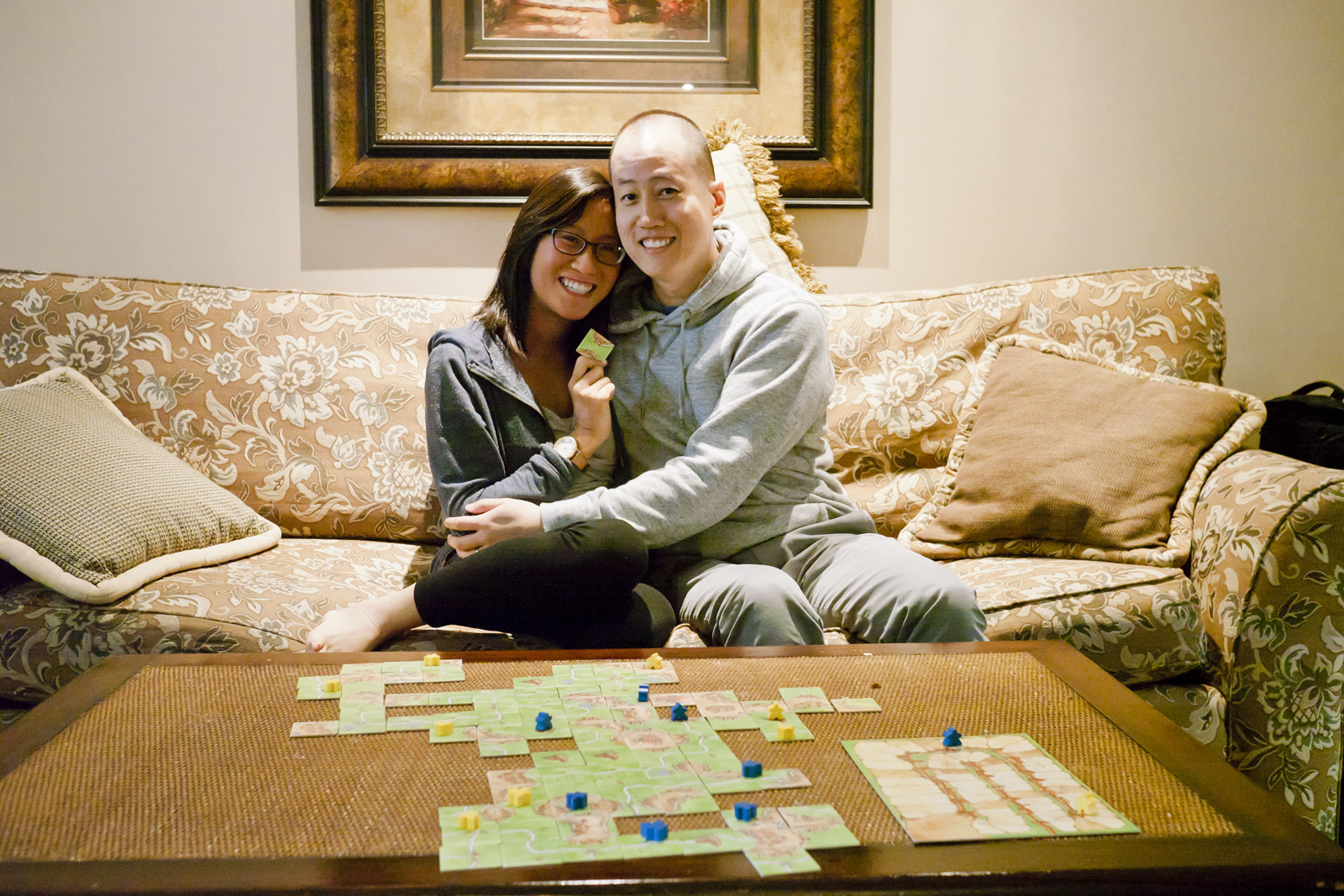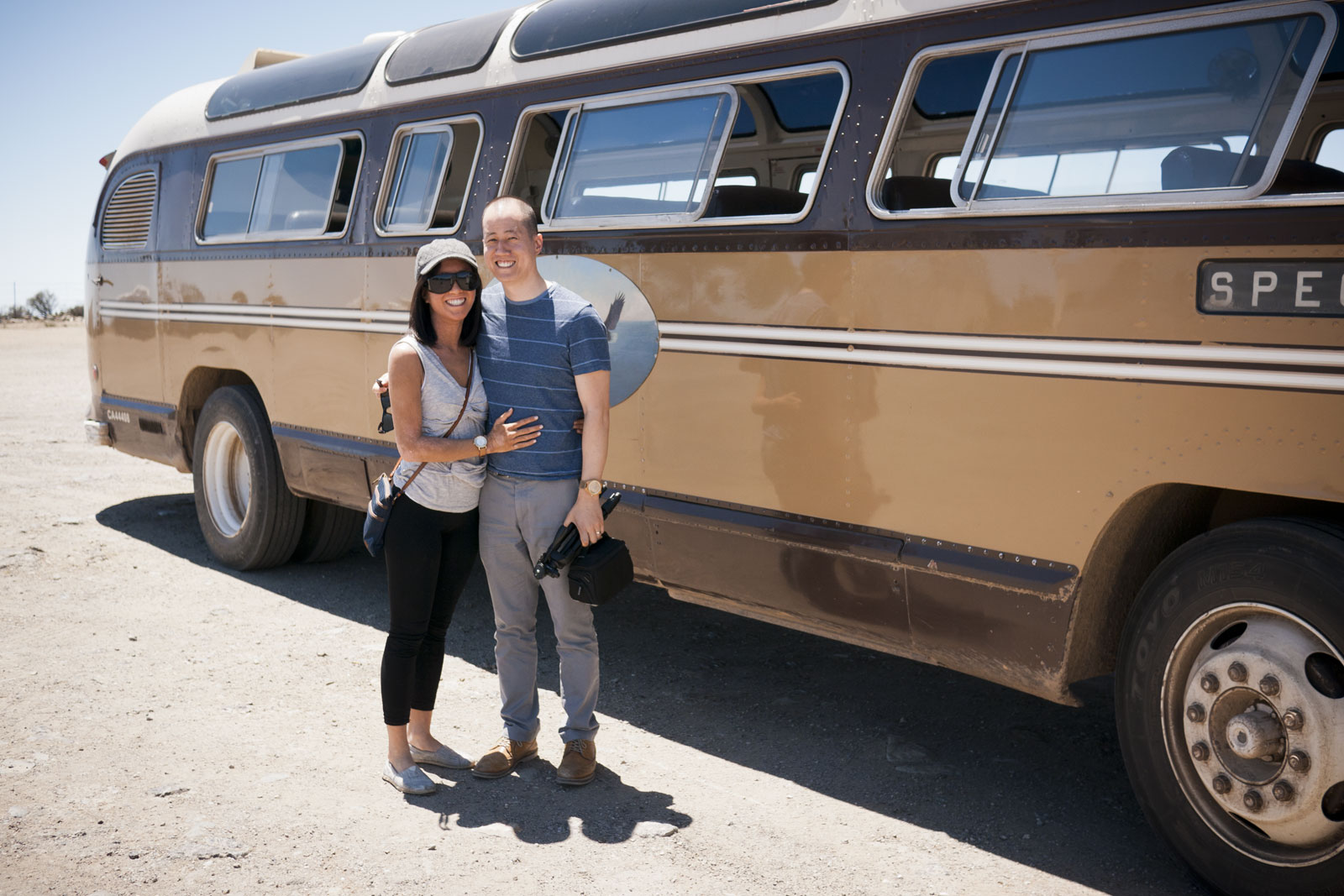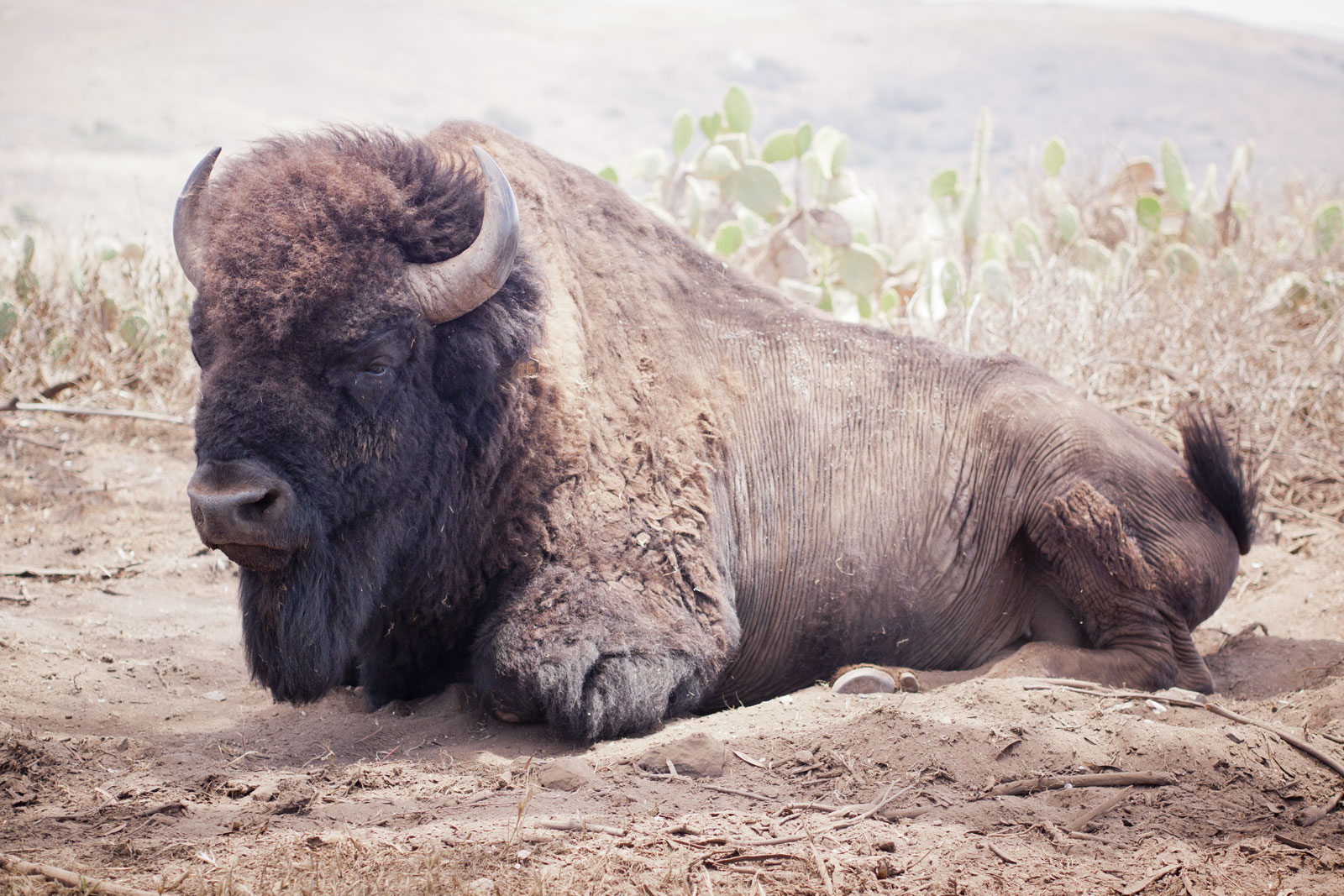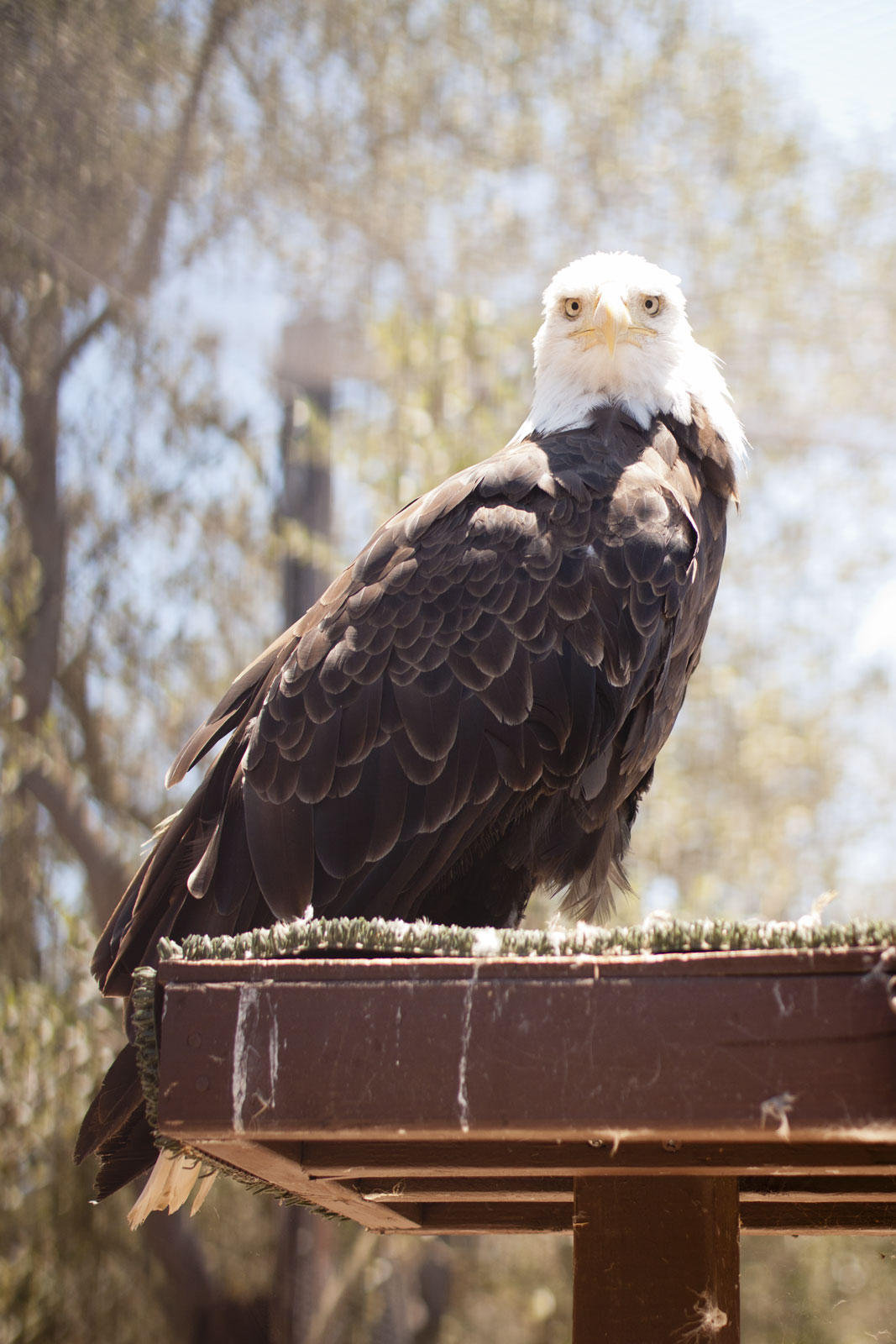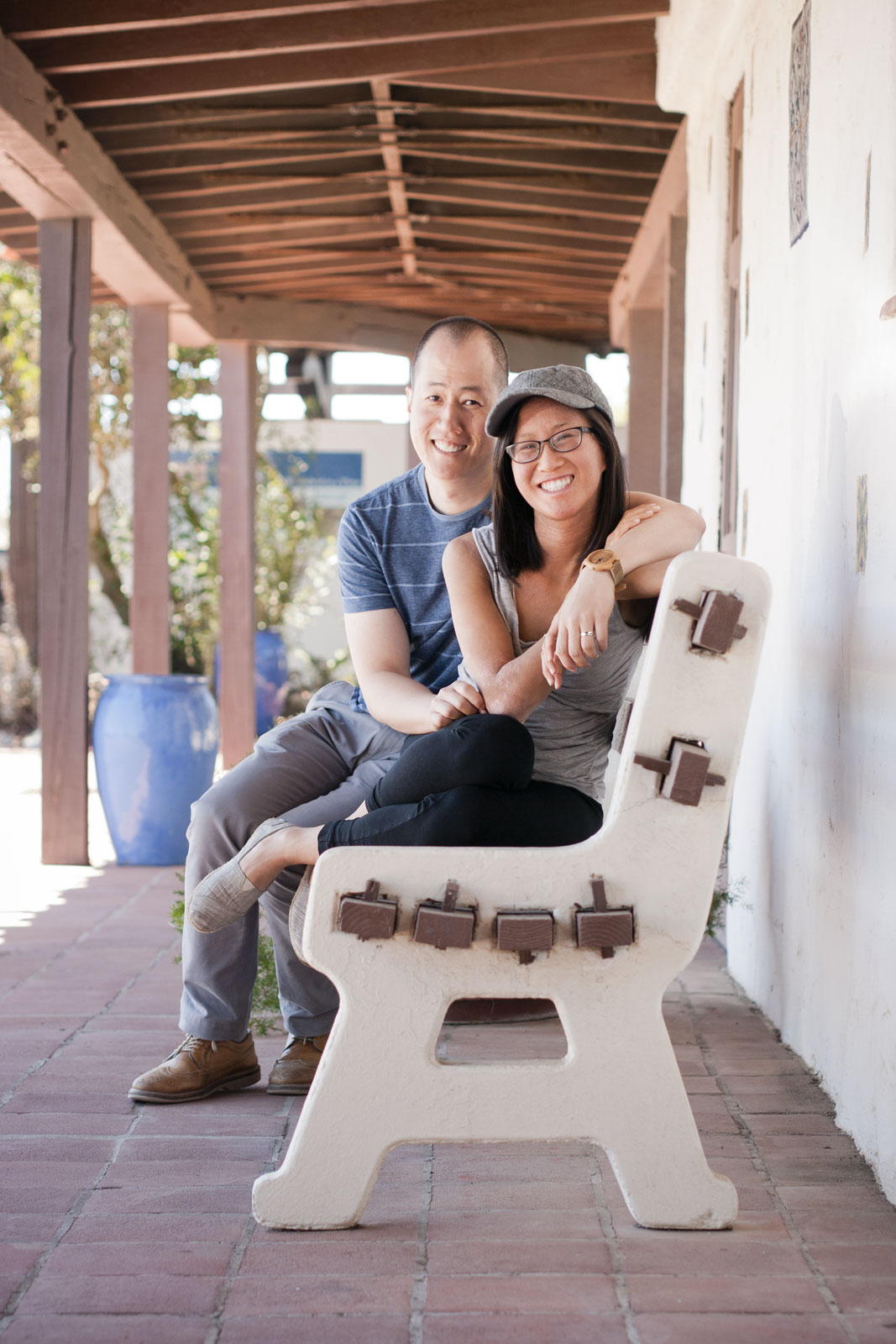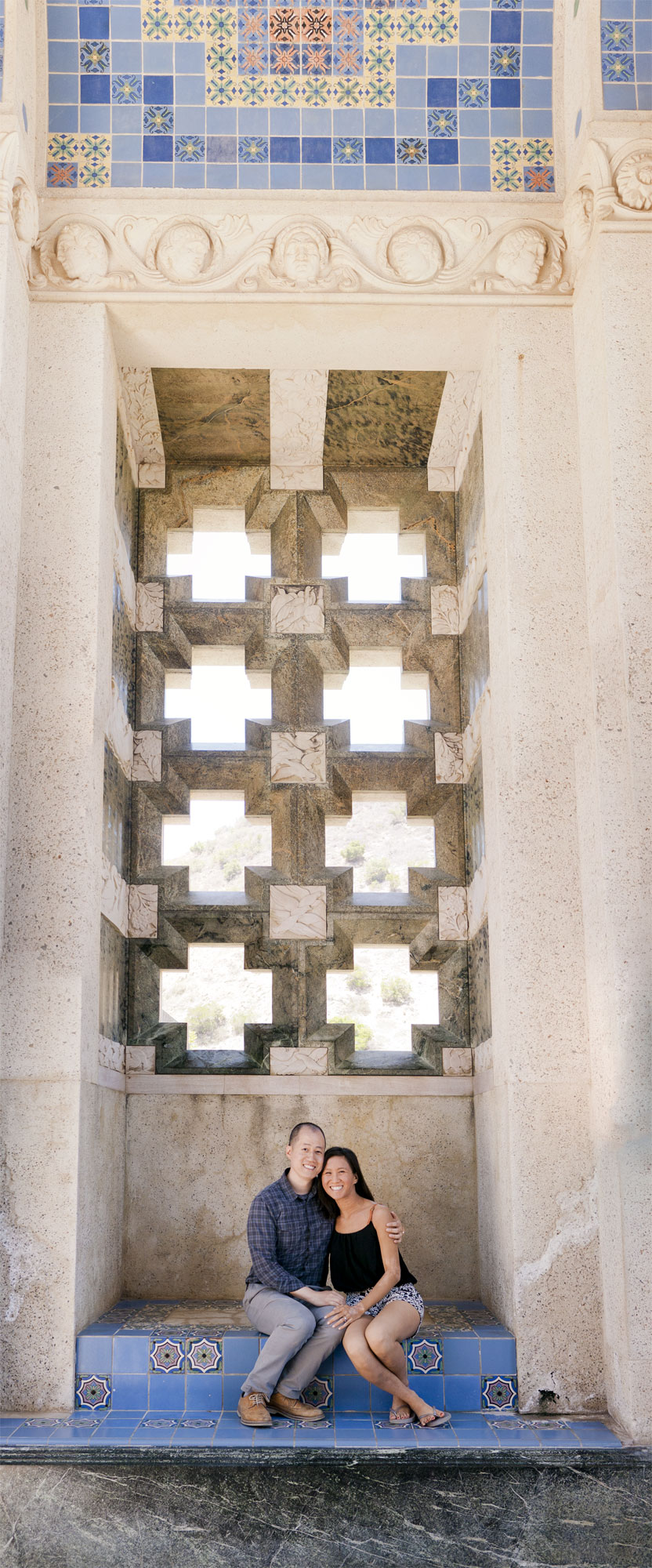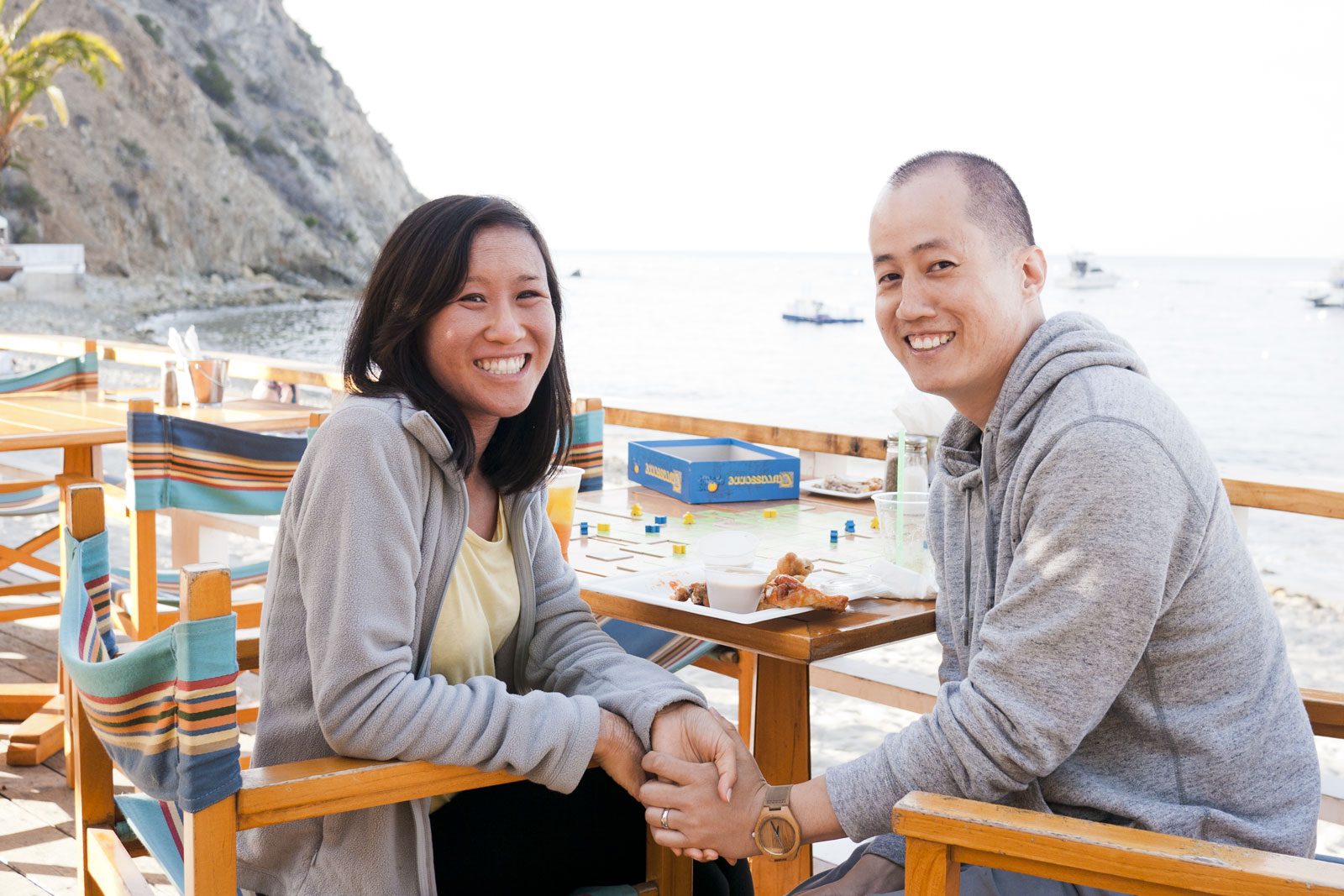 We decided to spend our last full day of our honeymoon on Friday at Disneyland with Vincent, his wife, and his aunt and cousin. We hardly waited for any of the rides using Vincent's Fast Past Strategy and all the Disneyland staff congratulated us on getting married with our cool pins.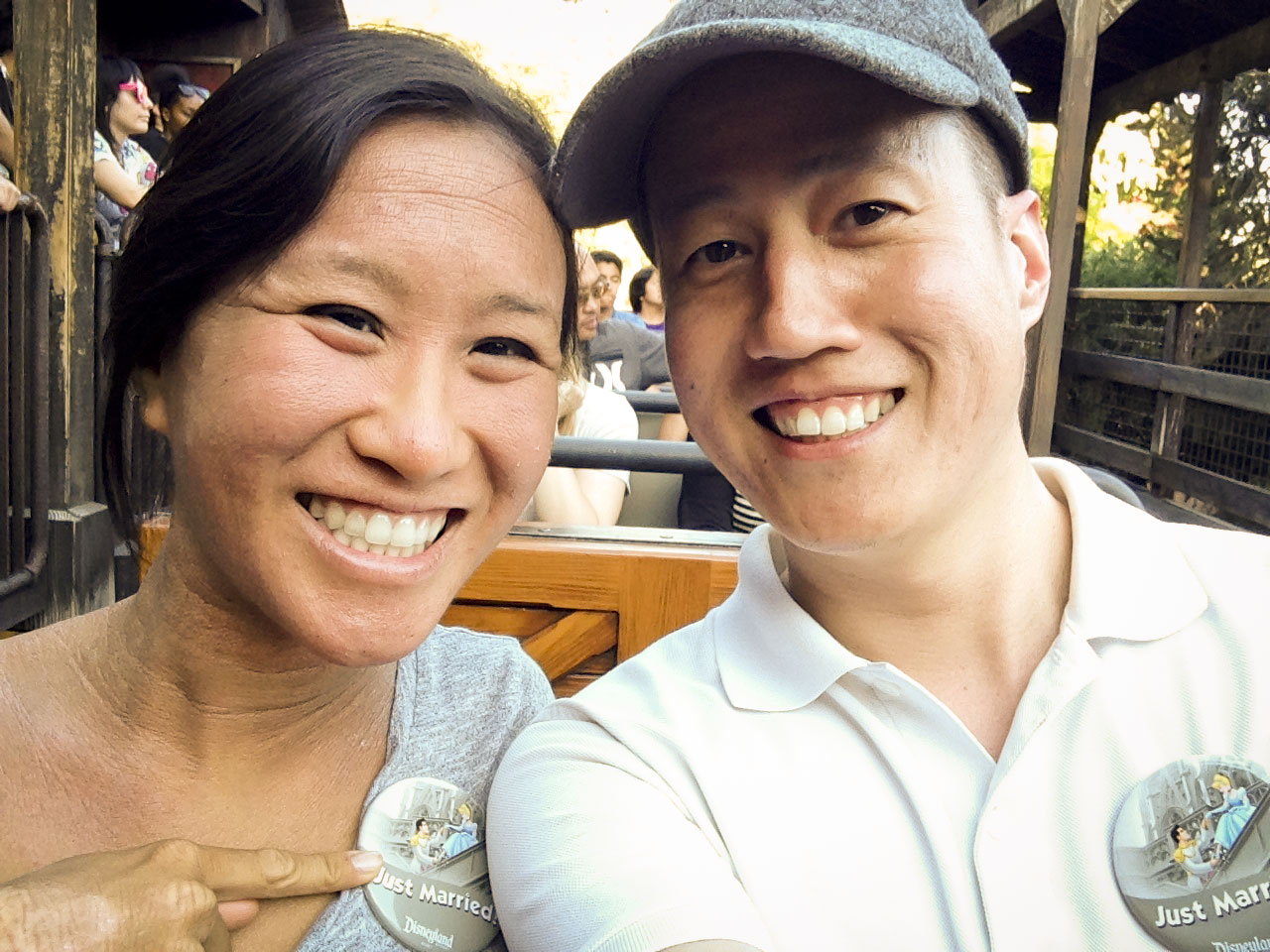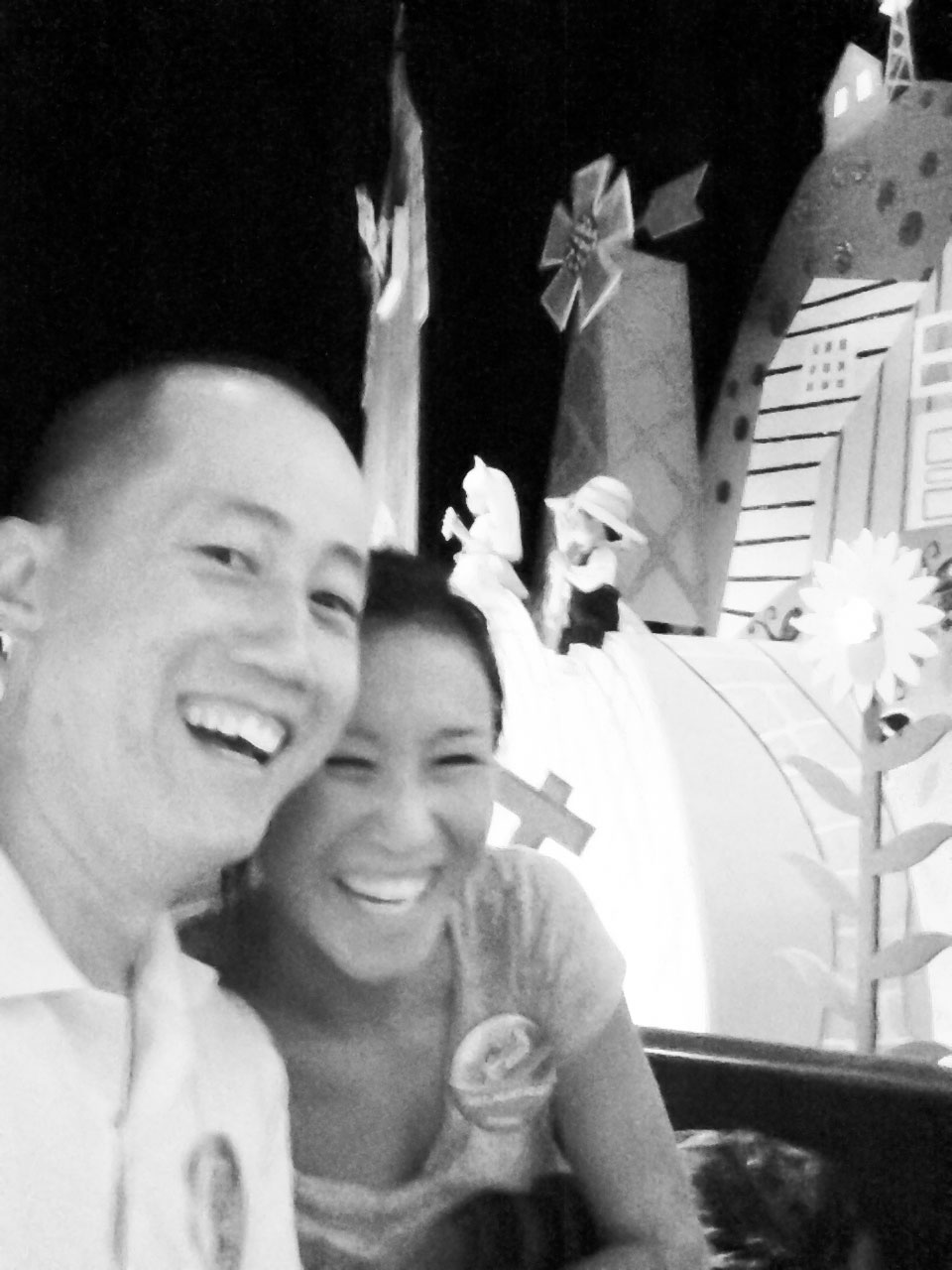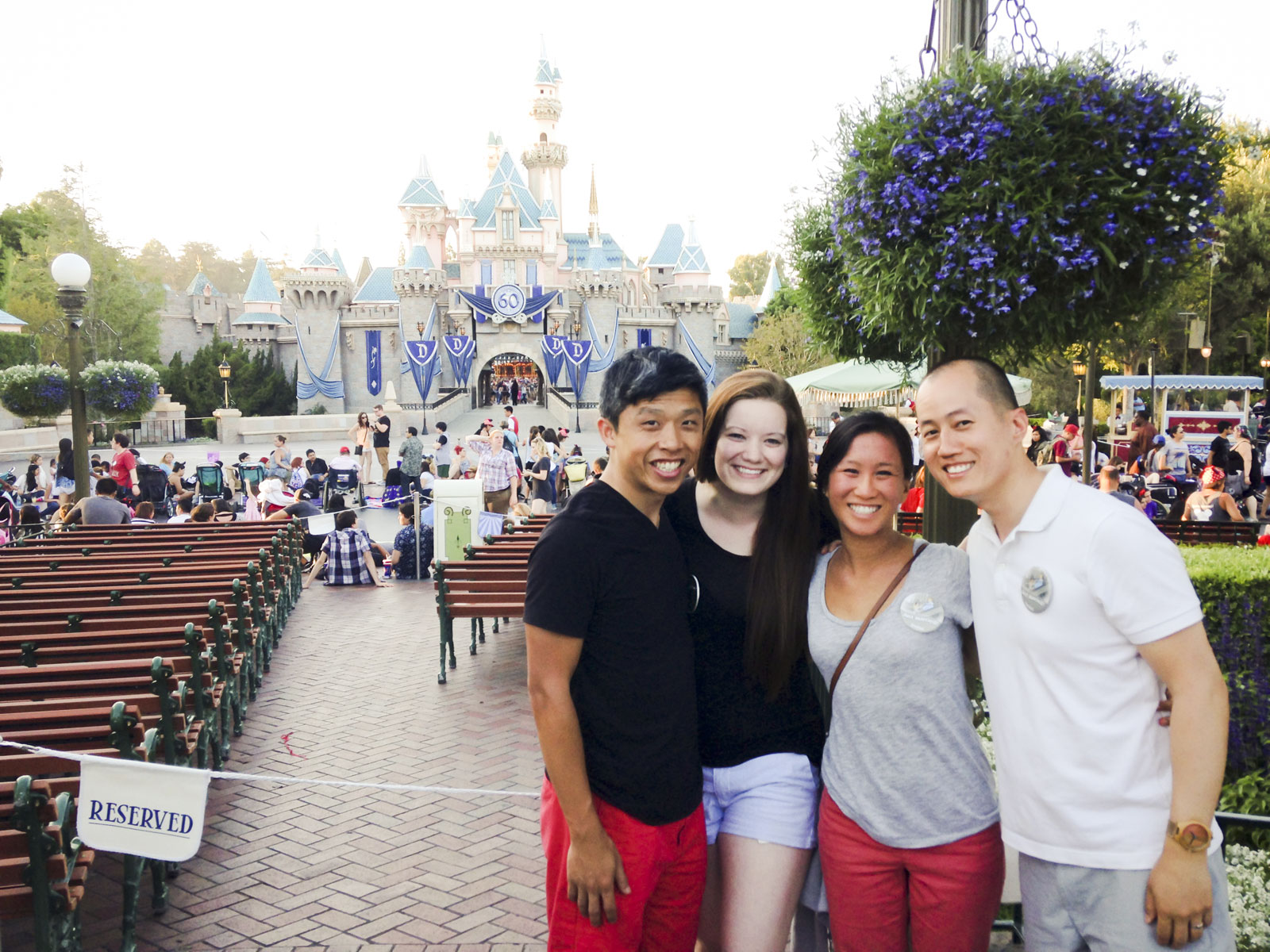 Like most trips to Disneyland, it was a big workout for our feet and calves which were satisfyingly sore the next day.
Phew!1 So that's the last six months of my life. The last six months of wedding planning and house buying. The last six months of traveling and celebrating. And the last six months of being single! I'm a married man!
[Slideshow credit: Sarah L.]
1I now feel like I have to take a vacation from writing all this about my vacation.