You are lying in bed.  From your laptop, you scroll down your website slowly, the large brown letters beginning each post drifting to the top.  Seeing a pattern emerge, you fall asleep. You awake the next morning with an idea.  Grabbing the nearest piece of paper on hand you scroll down the website tallying the first letter of each of the 115 posts.  You feel the need to Excel this data.  You are a professional after all: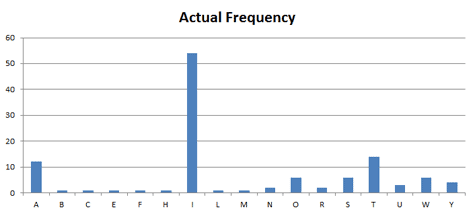 (Your tally totals 116 posts but you shrug your shoulders and say, "Close enough.")  But wait!  Suddenly what has been in the back of your mind this whole time dawns on you.  Not all letters have an equal percentage of being used as the first letter of the word!  A letter could be used frequently just because it appears often at the beginning of words.  A quick search on Google reveals a Wikipedia article on first letter frequency.  You remember the reserve model you use at work, how it modifies incurred claims to remove the variation caused by workday fluctuations, and after consulting with your very smart team lead Sean, you divide the actual frequencies by the weight of each letter and multiply by the average of the weights to remove the inherent first letter frequency of the English language: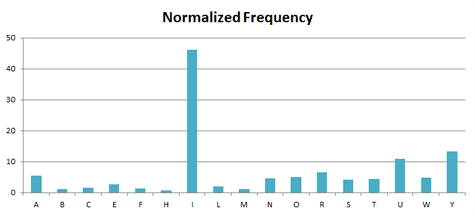 (Looks quite similar but again you shrug your shoulders).  Just as you suspected!  Too many I's.  You talk about yourself way too much.  You are self absorbed and the evidence is overwhelming.  What have you done!  Is there any possible way you could stop talking about yourself so much?  You begin to wonder about other modes of narration ….